How To Use Microsoft Edge Secure Network Free VPN Service? Google Chrome is now the most popular web browser. However, it is not the finest. Other web browsers, such as Microsoft Edge, Brave, Firefox, and others, perform significantly better and provide more useful functions to their users.
The web browser comes with Windows 10 and Windows 11 operating systems if we speak about Microsoft Edge. Edge is Windows' default web browser, and it is attempting to compete with Google Chrome in terms of functionality and dependability.
We're discussing the Edge browser since Microsoft is currently testing a new security feature called Microsoft Edge Secure Network. In this essay, we will discuss Microsoft Edge Secure Network and how to utilize it.
What exactly is the Microsoft Edge Secure Network?
Microsoft Edge Secure Network is a VPN service currently under beta testing. So, Microsoft has collaborated with Cloudflare to provide the VPN service to Edge users.
Microsoft Edge Secure Network is similar to any other VPN service you may use. However, it can encrypt your traffic and mask your IP address. In addition, third-party organizations that gather your browsing data will be deleted due to the encryption.
The Microsoft Edge Secure Network is free, but it has certain limits. The VPN will only provide 1GB of bandwidth per month during the trial period. Users must also sign in using a Microsoft account to utilize the service.
The Microsoft Edge Secure Network is still under testing, and the functionality is presently being rolled out to a restricted number of users. Still, it will be available to the general public in the coming months.
How to Use the Microsoft Edge Secure Network
If you want to experience the Edge browser's free VPN service right now, you must join the Edge Insider Channel and download the Edge Canary browser. If you do not see the Secure Network functionality on Edge Canary, it is not available in your location.
We've given some easy ways to activate and utilize the Microsoft Edge Secure Network on a Windows device below. So let's go check it out.
1. First, launch the Edge browser and click the three dots. Select Secure Network from the drop-down menu.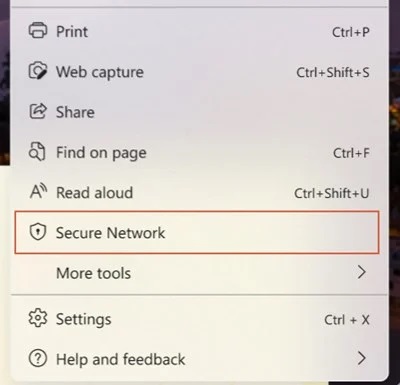 2. You will now be prompted to check in to your Microsoft Account. Access your Microsoft account.
3. Once completed, you will notice a shield symbol below the address bar. Next, turn on Secure Network Protection by clicking on the Microsoft Edge Secure Network icon.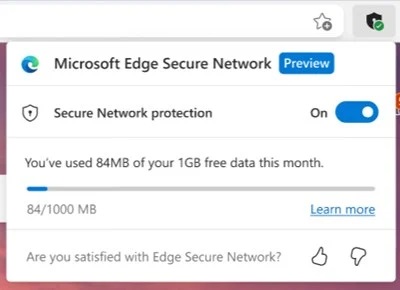 4. This activates Secure Network Protection. Click the address bar icon (shield symbol) to check your use statistics. For example, you will be able to check how much bandwidth you have used.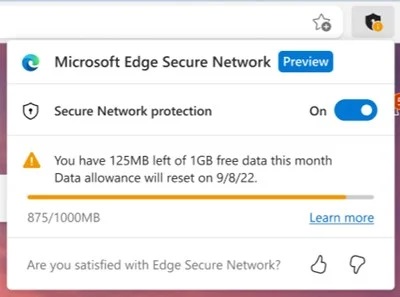 5. If you have used all of your free data, you will get a similar warning.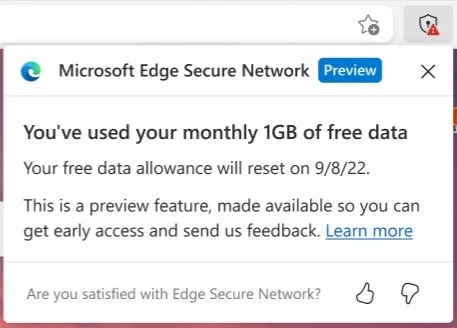 That's all! You're finished. This is how you may utilize the free VPN service Microsoft Edge Secure Network on Windows.
Final Thoughts: 
Microsoft Edge's Secure Network is an exciting new feature. The functionality has been made accessible so that people may test it out and provide comments. However, keep in your mind that this is a beta feature with several flaws. If you can't locate it, you'll have to wait a few more months to sample the free service.