Do you know how to view Instagram account history? No worries let's start! For a variety of reasons, Instagram is the most popular and widely used photo-sharing platform. This includes Meta's (Facebook) reputation, functionality, user base, and availability of mobile apps.
Instagram has over a million users and lets them send text messages, conduct voice and video chats, post photographs, and videos, and share stories, among other things. If you're a frequent Instagram user or influencer, you might be curious about your Instagram Account History.
When you click a link on Instagram, the app's built-in web browser launches. It's a handy feature that lets you check out links without having to open your primary browser. The disadvantage is that this session will not be saved in your primary Instagram Account History. You wouldn't be able to find the link in your normal web browser if you needed to go back to it or share it with someone else again.
Instagram, like every other social networking platform, stores a lot of information about you, including everything you've done in the past. You can quickly check the last time you changed your password, the day you altered your bio, website, and more using the Instagram Android app's support.
How to See Your Entire Instagram Account History

Fortunately, Instagram's built-in browser saves your browsing history and allows you to see all of the links you've visited. Here's how to access Instagram Account History on Android and iOS devices step by step.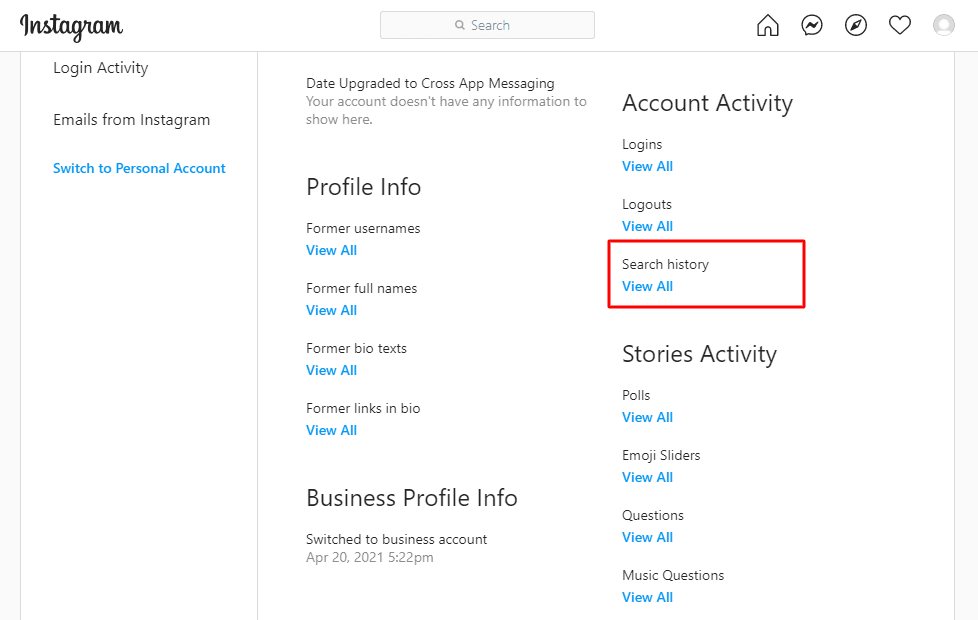 You can also find out when you started your account on Instagram's Account History page. As a result, if you want to check your Instagram account history, you've come to the perfect place. In this post, we'll show you how to access your whole Instagram Account History step-by-step. Let's have a look around and see what we can check.
To begin with, launch the Instagram app on your Android phone.
Then, as indicated in the screenshot below, touch on your profile photo.
Now, as indicated in the image below, press on the hamburger menu (three lines).
Select the "Your Activity" option from the pop-up menu.
Scroll down to the Instagram Account History option on the Your Activity screen, as shown below.
 You'll be able to access your whole Instagram history on the Account History screen.
You may also make adjustments to your Instagram account under the Instagram Account History area. For example, if you wish to alter your bio, tap on the Bio option and make the necessary changes.
You may also change your password, privacy settings, chat options, website, and other things.
That concludes our discussion. You've completed your task. You may see your whole Instagram Account History in this manner.
How can I check when my account was created?
Instagram, on the other hand, allows you to check the account creation date in a few simple steps. As a result, if you want to see when your Instagram account was formed, check out our tutorial titled "View When an Instagram Account Was Created."
So, in this article, we'll show you how to access your whole  Instagram Account History in a few simple steps. I hope you find this material useful. Please pass it on to your friends as well. If you have any questions, please leave them in the comments section below.
How to Delete the Instagram Cache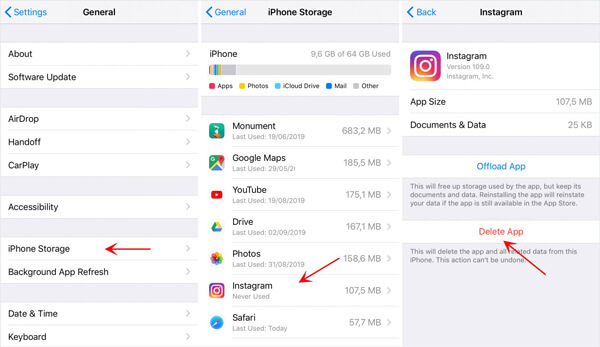 On your profile page, tap the hamburger menu again and select "Settings."
After that, go to "Account" and touch "Browser Settings."
Finally, beneath Browsing Data, hit the blue "Clear" button to clear cookies and cache from websites you've visited using Instagram.
Even if this action is permanent on this page, you may still access the hidden links by obtaining a copy of your Instagram data. Here's a basic rundown on how to get your hands on it.
How to Get a Copy of Your Instagram Browsing Information
Downloading your data is always a smart idea, whether you're cleaning out your house before you leave Instagram for good or looking for connections you accidentally lost. Furthermore, the more you use Instagram, or any other social media platform for that matter, the more data they gather about you.
You may check not just your browsing history, but also information like your bio text history, login and logout history, hashtags you follow, ad interests, and more. This information is available for download via the mobile app or website. Let's start with the mobile app, as that's what we've been discussing.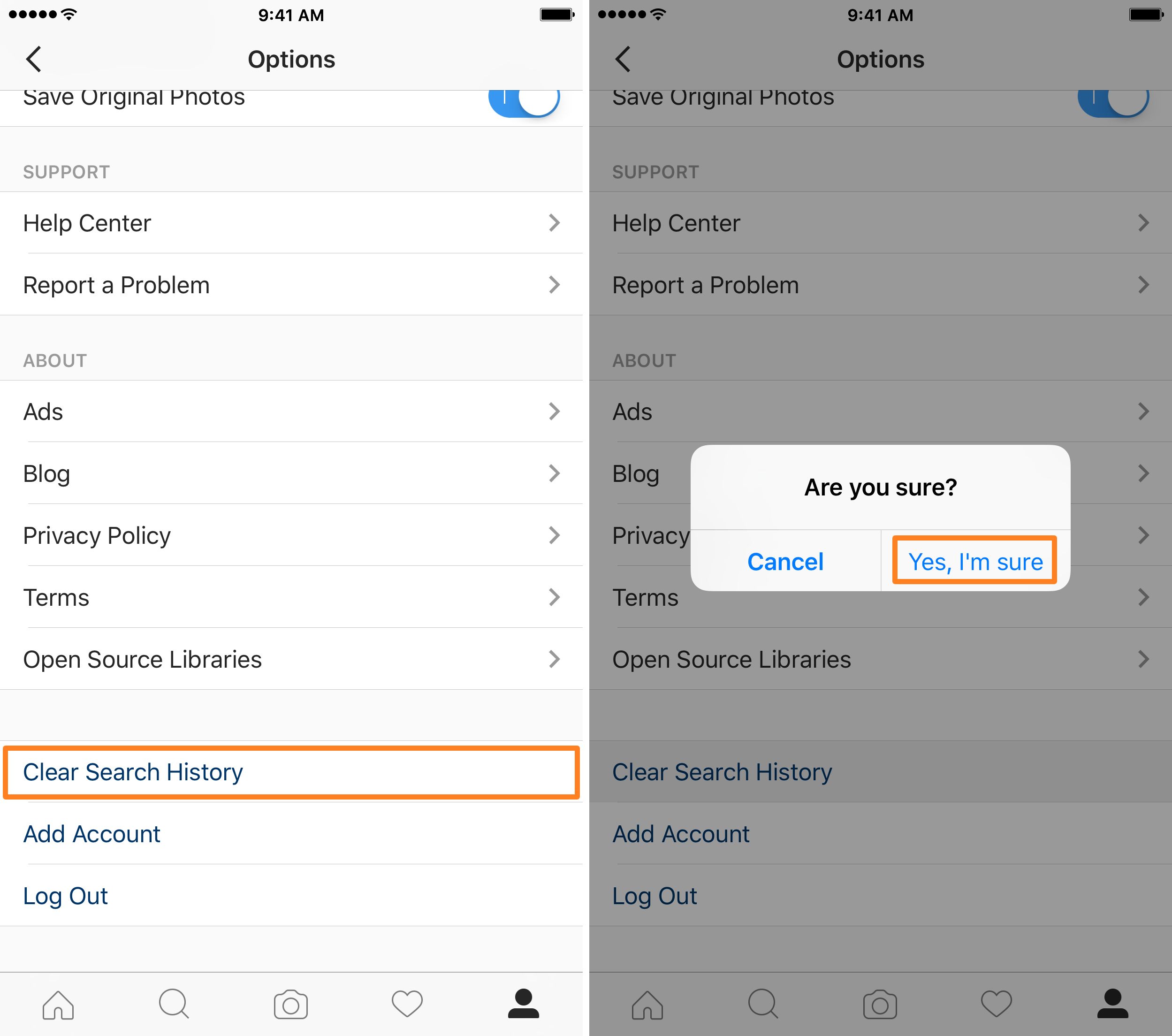 Tap the hamburger menu on your profile page (three-line icon).
Then pick "Security" from the "Settings" menu.
Tap "Download Data" under the "Data and History" category.
Select "Request Download" after entering your email address.
Tap "Next" after entering your password.
Visit the Instagram website and log in to your account to accomplish the same thing. Then:
Choose "Settings" from the profile icon in the upper-right corner of the screen.
In the sidebar, select "Privacy and Security."
Select "Data Download" from the drop-down menu, then "Request Download."
Enter your email address and select your chosen data format. Then press the "Next" button.
Click "Request Download" after entering your Instagram login.
That is all there is to it. Within 48 hours, you should get an email containing your Instagram information. So far we've talked about how to access and erase your Instagram Account History. However, your search history contains a lot of things you don't want others to see.
Even if you remove your browser history, someone might still check your phone and see the profiles you've been stalking in the search bar if you don't clean up your search history. Fortunately, there is a technique to conceal your embarrassment while also erasing the proof. In just a few clicks, you can access and remove your Instagram search history on the app and website.