We've all done it: accidentally hit Delete on a crucial email, consigning it to the trash can. Fortunately, Google is aware of this and has made it easy to recover deleted texts in a few simple steps. There are a number of ways to recover deleted emails from Gmail, which is why we've put together a table of contents below so you can jump to the part that most suits your needs.
It's all too usual for a computer or smartphone user to delete something they didn't mean to. Files on the computer or emails in the Gmail account might be among the objects that have been deleted. When it comes to recover deleted emails, you have 30 days to retrieve the message before it is permanently deleted.
Actually, Gmail has another feature that allows users to recover deleted emails up to 55 days ago. However, you'll need a Google admin account to do so. You won't be able to access the admin panel if you're a normal Gmail user. As a result, if you've just deleted a few emails from your Gmail account and are seeking a solution to recover deleted emails, you've come to the perfect place.
4 Best Ways to Recover Deleted Emails from Gmail
This post will show you how to recover deleted emails from G mail using four different approaches. The procedures will be simple to follow; simply follow the stages outlined below. So, let's get this party started.
1) Recover G mail Deleted Emails
We'll utilize the online version of G mail to recover the deleted emails in this way. Here are a few basic steps to get you started.
To begin, open your preferred web browser and sign in to your Gmail account.
Scroll down the list on the left pane and select the More option, as shown below.
Next, as indicated in the picture below, select the Bin or Trash folder.
You'll discover all of your deleted emails in the right pane.
 Select the emails you wish to recover by checking the box next to them. After then, as indicated in the image below, touch the move symbol.
You will now be presented with a number of folder alternatives to which you may relocate the deleted emails. Select 'Inbox' if you want to recover the emails.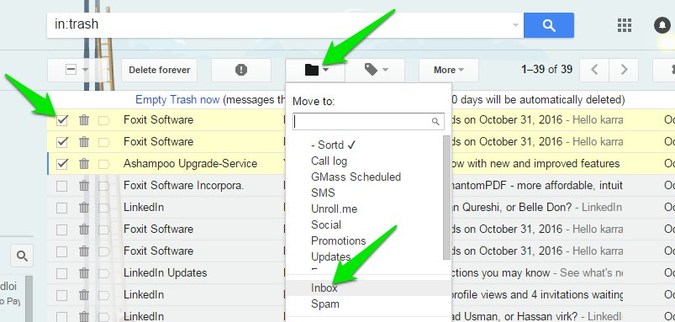 That concludes our discussion. You've completed your task. This is how you may get Gmail for desktop to recover deleted emails.
2) Gmail Mobile App: Recover Deleted Emails
You may recover now Deleted emails using Gmail's mobile app, just like the online version. Here are a few basic steps to get you started.
First, open the Gmail app on your smartphone and hit the hamburger menu, as seen in the image below. You will now see a folder list.
Scroll down to the Bin folder and tap it, as seen below.
Now choose the emails you want to recover and hit the menu option in the upper right corner (three dots).
Select the Move to option from the drop-down menu.
Next, choose the folder in which you'd like to save your deleted emails.
That concludes our discussion. You've completed your task. This is how you can recover emails from the Gmail mobile app that have been deleted.
3) How can I get my emails back after 30 days?
As previously stated, you have a 30-day window to recover your deleted emails. As a result, if the 30-day period has elapsed, you must recovered deleted emails using the Google Admin account. Here are the procedures you must take if you have an admin account.
To begin, open your desktop computer browser and navigate to admin.google.com. After that, go to your Google Admin account and log in.
Select Users from the Admin panel.
Now choose which users' deleted texts you want to recover. When you're finished, move your mouse cursor over the user and click 'More choices.'
After that, choose the date range for which you wish to recover emails. Select 'Gmail' as a data type and then click the Restore button.
That concludes our discussion. You've completed your task. This is how you may use the Google Admin panel to recover deleted communications.
4) Recover Emails in Gmail That Have Been Permanently Deleted
If the 30-day period has elapsed and you do not have access to the Google Admin panel, there is another way to recover the deleted emails. It is also possible to recover emails that have been permanently deleted. However, the method does not always work. We've written a comprehensive guide on how to recover permanently deleted emails from Gmail. You must go to that page and study the instructions on how to recover emails that were deleted 30 or 55 days ago.
How can I Restore deleted emails in Gmail After 30 days?

Gmail deletes any messages in the "Trash"/"Bin" or "Spam" folders that have been there for more than 30 days. It is impossible to undo or recover these emails because they are done automatically and permanently. Note that Gmail will only automatically remove emails from these folders. If your emails are being deleted from other folders, such as "Inbox" or "Sent," you should contact Google Support.
Gmail emails that were deleted from the garbage
There is an option to "Delete permanently" in G mail's Trash folder. This is a button with a pretty literal name. Gmail's Trash folder contains emails that are permanently deleted. There is no way to retrieve them.
So, when you click "Delete forever" on Gmail, be cautious. After 30 days, emails in the Trash folder are automatically deleted, so it's best to just leave them there.  If you need to recover the email, you'll only have a month to do it. You can Also check List of Best Google Drive Alternatives.
Final Thoughts:
So, these are the best techniques to recovering G mail Deleted emails. I hope you found this material useful! Please pass it on to your friends as well. If you have any questions, please leave them in the comments section below.