You must have used AirDroid or heard of it if you have an Android phone. There's no doubt that the app is very popular. Using the web or desktop apps, AirDroid is an app that allows you manage your Android device from a computer. From your computer, you can use AirDroid to handle files, check for notifications, respond to messages, control your device from afar, and do much more. There's no question that AirDroid can do what it says it can do, but the service did come under fire when security company Zimperium revealed several security holes in the app. Users have been moaning lately that the app has too much junkware. Something is wrong with the AirDroid app. Here are 8 AirDroid options you can use in 2023 if you're looking for an AirDroid alternative or a similar app for iOS.
Best AirDroid Alternatives in 2023
1. Snapdrop
Regarding sharing files, Snapdrop is a great alternative to AirDroid that you should check out. You can share files quickly and easily across multiple platforms without downloading an app, making an account, or reading a QR code. All platforms can use Snapdrop, which is an open-source web-based tool. A shared wifi access point is all you need. Open snapdrop.net on both devices and begin sharing files if your PC and smartphone are linked to the same wifi network. The best part of Snapdrop is that it's lightning fast, lets you share multiple files at once, and doesn't have any ads. Also, unlike the free version of AirDroid, all your file exchanges are protected by the TLS protocol. Finally, if you mostly use AirDroid to send files, Snapdrop is the best alternative.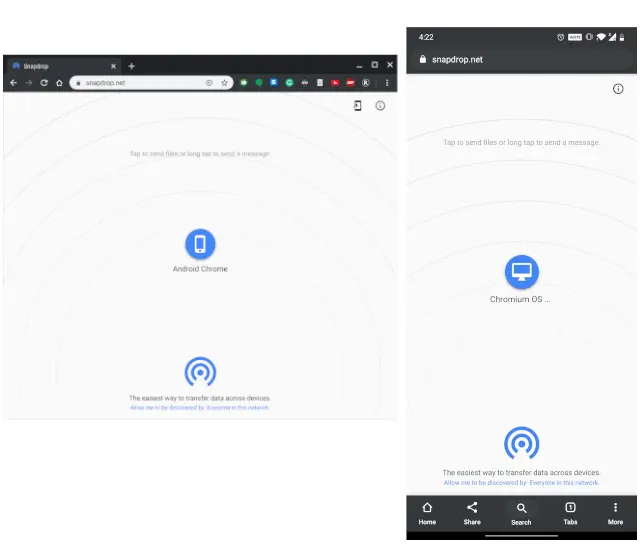 Availability: Android, iOS, Windows, macOS, Chrome OS, Linux, Chrome, Firefox, Safari, Web (Free)
2. Pushbullet / Portal
You can get notifications, share files, mirror your screen, access your phone from afar, and more with AirDroid. While some apps offer all of these features, only a few are out there. Pushbullet is one of the best examples because it lets you send messages, links, and files, share the global clipboard, and access your smartphone notifications. They always offer end-to-end encryption for the highest level of security. That said, it doesn't have the wifi file sharing that makes AirDroid so popular. Pushbullet supports local file transfers by default, but it does not offer a full-fledged local web address for file sharing. To support this, Pushbullet has introduced a new app called Portal that gives the same wifi file sharing through a predetermined web address. It could be said that Pushbullet and Portal work best together as an alternative to AirDroid.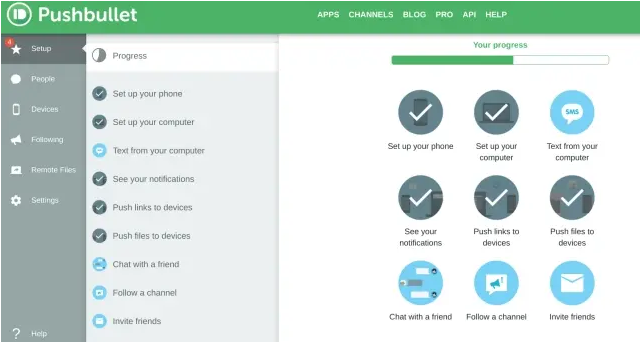 Availability: Android, iOS, Windows, macOS, Chrome, Firefox, Safari (Free, Pro subscription starts at $4.99/month) / Portal (Free)
3. Your Phone Companion
Microsoft made an app called Your Phone Companion to help smartphones and Windows computers talk to each other. This app allows you to access pictures, send messages, receive calls, and receive notifications on your PC, just like AirDroid. Recently, Microsoft has put a lot of work into the Your Phone app, which is why it has many new features. You can do a lot more if you have a top-of-the-line Samsung smartphone. You can mirror the smartphone screen on your computer, pick up editing a document where you left off on your smartphone, and more. Overall, Your Phone Companion is a useful app that can add many AirDroid features without paying for the Pro version. The only bad thing about Your Phone Companion is that it still needs to be available on iOS, but that will change.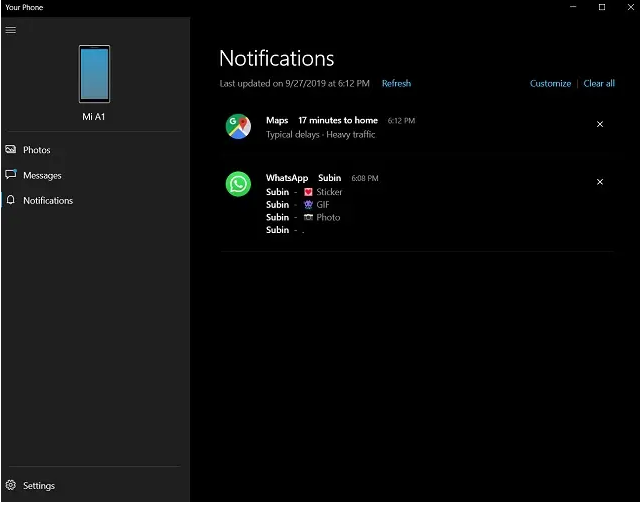 Availability: Android (Free), Windows 10 (Free)
Even though ShareMe doesn't have as many features as AirDroid, I only brought it up because it has no ads. There are a lot of apps in the Play Store that let you share files locally, but almost all of them have annoying ads, some with sexual videos, that make the experience even worse. In part, ShareMe is best known for transferring files between Android smartphones. Now that ShareMe has been updated, you can share files between computers and smartphones. With this app, setting up a local FTP URL on your Android device is easy. Then, you can use a web browser to access your files. Therefore, ShareMe is a fantastic alternative to AirDroid if you want an app for local file sharing between Android smartphones and computers.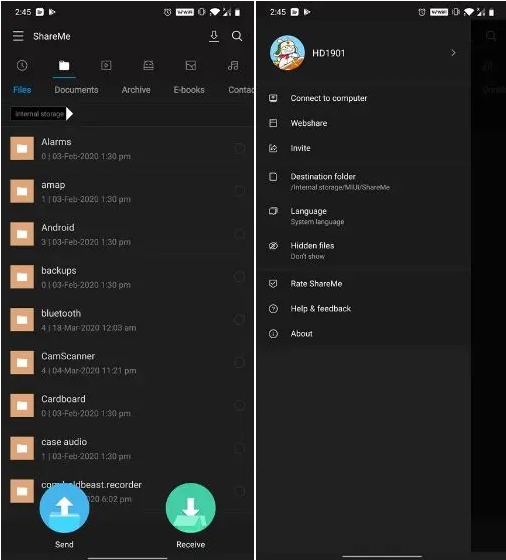 Availability: Android (Free)
5. AirMore
AirMore is remarkably similar to AirDroid, as the name suggests. While it doesn't offer all of AirDroid's features, it does have the most important ones. Files can be transferred from your Android smartphone to your PC and back again using AirMore, just like AirDroid. It syncs your apps, emails, and messages and lets you play media. Oh, and it also has a "Reflector" tool that lets you mirror the screen of your Android device to a computer, just like AirMirror. The app also lets you send messages from your PC and shows notifications. Also, AirMore is available for iOS devices if you're an iOS user who has always wanted AirDroid for iOS.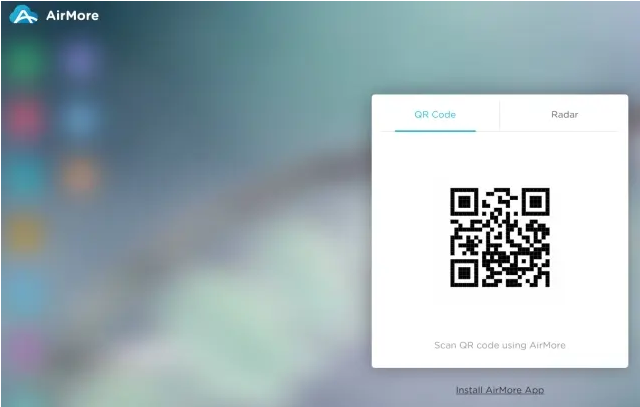 Aside from that, unlike AirDroid, AirMore is free, and despite lacking features like a remote camera, screen recording, the ability to make calls, respond to notifications, and PC clients, it is still one of the best AirDroid options you can trust.
Availability: Android, iOS, Web (Free)
6. Vysor
The AirMirror tool on AirDroid is pretty cool, but since it's wireless, the quality of the mirror depends a lot on how good your Wi-Fi link is. Thank goodness there's Vysor, which lets you mirror the screen of your Android device to a computer. You can also use the keyboard and mouse on your PC or Mac to control the Android device via the mirrored interface. The app is free, but you can pay for the Pro version to get additional features like wifi mode, full screen, better quality mirror, drag and drop files, and more.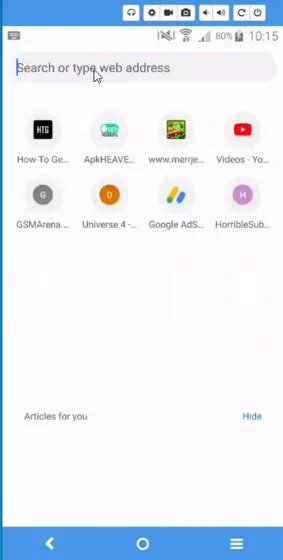 Availability: Android, Chrome (Free version, Pro subscription starts at $2.50/month)
7. ApowerMirror
The third app on this list that allows screen mirroring is ApowerMirror, a part of AirMore and Your Phone Companion. It's a screen mirroring app made by the same company that made AirMore, so you can be sure it will work well when handling the device from your PC. The best part of ApowerMirror is that it can mirror your screen without the need for root or any ADB commands. Just like AirDroid, you only need the PC driver to use it. Besides that, you can stream screens from Android and iOS to a Windows PC or Mac. In addition, it lets you use a mouse and keyboard to control Android devices from your computer. I must sayApowerMirror is a great app if you want an alternative to AirDroid for just showing your screen.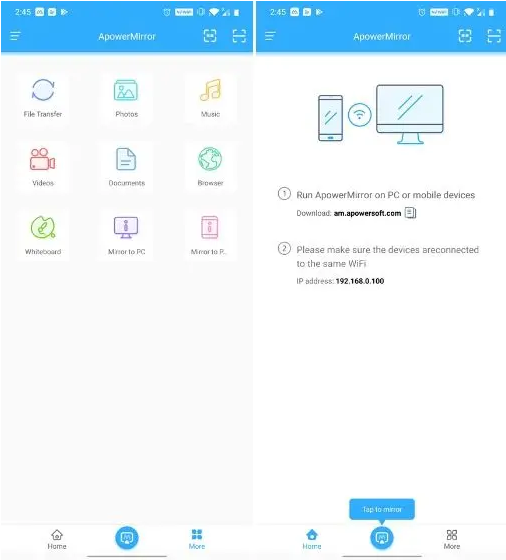 Availability: Android, iOS, Windows, macOS (Free)
8. Scrcpy
An open-source app called Scrcpy can also be used to mirror your screen. It works on many platforms, such as Android, Windows, Linux, and macOS. Even though you need to know a lot about apps to get this one to work, you should do it. It gives you access to some great features that are usually only available in paid versions of apps. You can, for example, control the Android screen from your PC with almost no lag. Besides that, you can record the screen in different sizes, use keyboard shortcuts on your Android device, send files, play music through your computer, and more. If you want a free alternative to AirDroid, Scrcpy is the only one that can compare.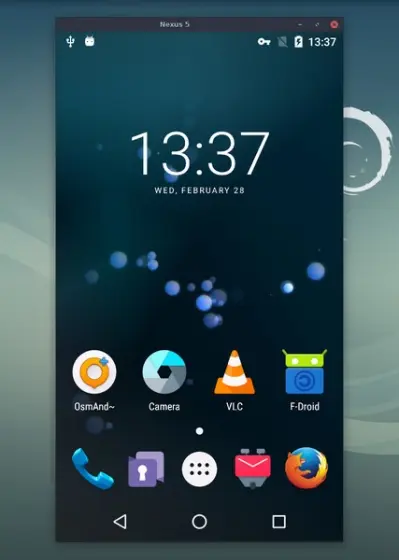 Availability: Android, Windows, macOS, Linux (Free)