Dark Sky is one of the best iPad, iPhone, and Android weather apps. Recently, Apple bought it and quickly shut down the Android version. Many Android users liked the Dark Sky app because it had a simple interface and accurate hourly forecasts. But since Dark Sky is no longer available, users are looking for a new app with a good user interface and real-time weather forecasts. To complete things easier for you, we have listed the Top 10 Best Dark Sky App Alternatives in 2022. We chose the apps that make it easy for users to do everything they need. So without further ado, let's go through the list.
Best Dark Sky App Alternatives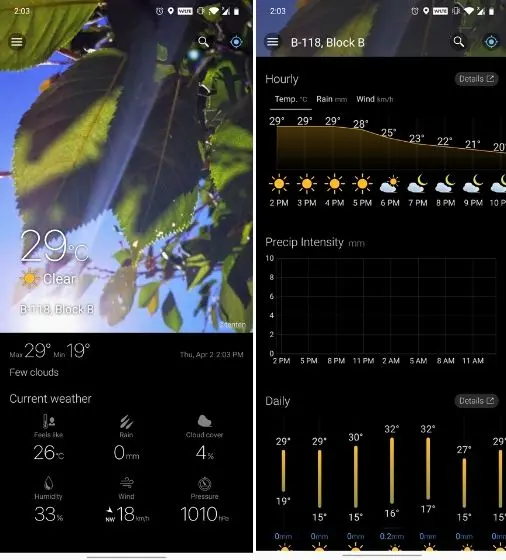 Weawow is another great weather app that looks and works very similar to Dark Sky. It gives you information about the current weather, such as the amount of rain, humidity, wind speed, pressure, and more. You also get daily updates for three things, like the temperature, the rain, and the wind. Weawow also gives information from AQICN about the air quality in your area, which is pretty good.
Besides all of this, you can choose your data source from MET, Dark Sky, Weatherbit, Accuweather, and more. The best thing about Weawow is that its interface has no ads. You can provide as much as you want to the developer, but even in the free tier, there are no ads on the user interface. To sum up, Weawow is a strong weather app that can replace Dark Sky on your Android app.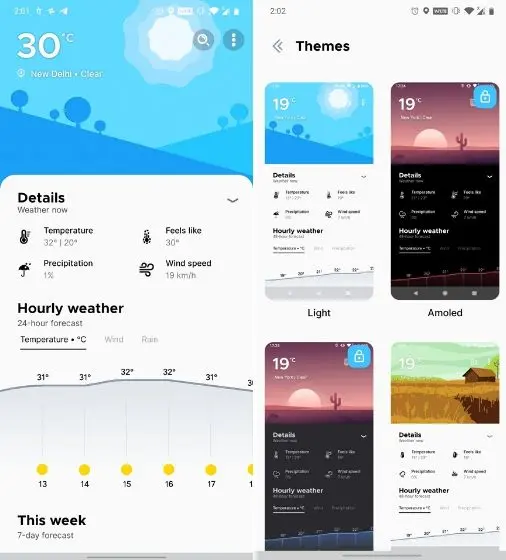 Overdrop is my second choice for an app like Dark Sky, and there are two main reasons. The excellent user interface, hourly and weekly forecasts, and nothing else on the home screen. You can expand the bar to learn more about humidity, cloud cover, pressure, etc. The second reason is that even on the free version, there are no ads on the main screen, which is great.
Aside from that, Overdrop has Theme, which has different graphics and background colors, such as AMOLED, Dark, Space, Light, and more. Also, Overdrop has an option to show a notification that stays on, and it has many widgets that look great. Simply put, Overdrop may not have as much information as other weather apps, but it's simple and has everything you need in one place.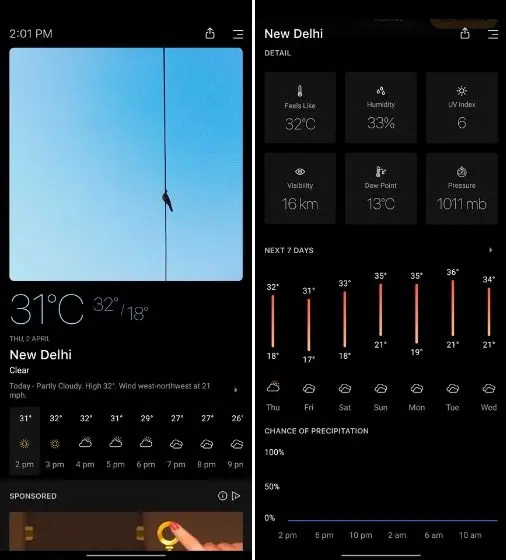 The Dark Sky app was well-known for its easy-to-use interface and hourly updates on the weather. So, if you want a similar app that is good at both options, the best Dark Sky app alternative for Android is Today Weather. It has the best user interface because all the information is organized and easy to read on the main screen. Nothing on the home screen is too much. Aside from that, it has a menu that looks like a deck of cards with many proper measurements, such as humidity, UV Index, Air Quality Index, Pressure, and more.
But that's not everything. The best thing about Today Weather is that you can get weather information from many different sources. Today Weather still uses Dark Sky's API and will do so until late 2021. After that, however, you can use data from Accuweather, OpenWeather, Foreca, and many government-run weather centers. Even so, Today Weather does have a banner ad, but it doesn't get in the way. So, to clear options up, the best Dark Sky app alternative right now is Today Weather, which you should try on your Android phone.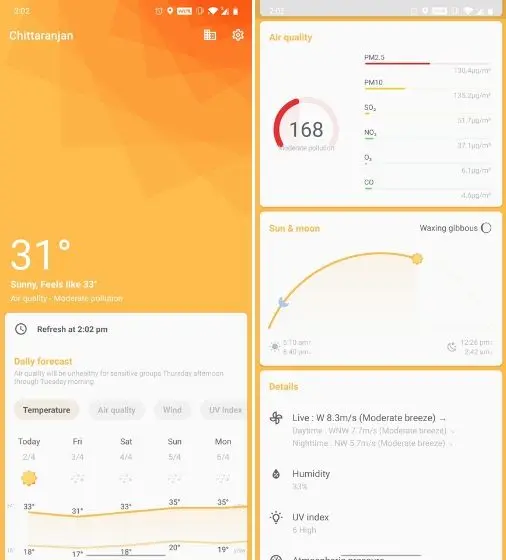 Geometric Weather isn't a very popular app, and it's certainly not as popular as the Dark Sky app, but it has a beautiful interface based on geometric shapes. It's small and easy to carry around, putting all the important information on the home screen. Geometric Weather tells you the temperature in real time, the weather forecast for the next hour and the next 15 days, the air quality index, and the wind speed.
If you want to know better about things like humidity, UV Index, atmospheric pressure, etc., you can scroll to the bottom of the page and see the most recent changes. This app can also change how the data cards on the home screen look. Geometric Weather gets data from Accuweather, while most other weather apps still use Dark Sky's API. So, Geometric Weather is the best alternatives to Dark Sky app if you want a reliable app with an easy-to-use interface and hourly weather updates.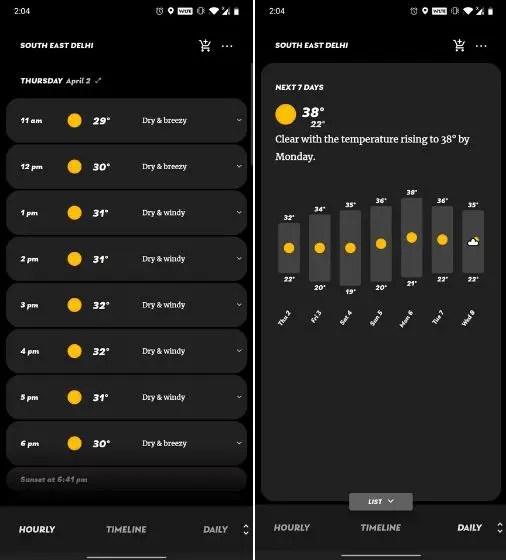 Appy Weather is for people who want a great user interface and experience using a weather app. This won the "Everyday Essentials" category of Google Play's Best of 2019 list. It has a scrollable interface and a card menu based on an hourly, daily, or weekly timeline. In addition, as the app is powered by Dark Sky's API, you can get accurate weather forecasts.
There are also options to see RADAR data in real time, get persistent updates on the weather, and use widgets, but these are only available with a paid plan. I recommend Appy Weather if you want the same weather accuracy as the best Dark Sky app alternatives, but with a fantastic new interface. I am sure, it won't disappoint you.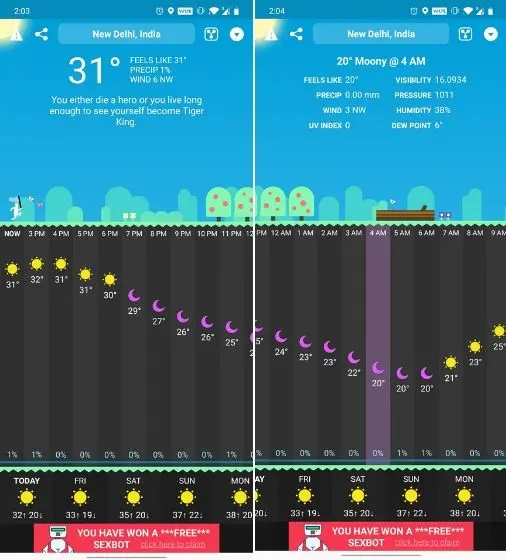 Carrot is a unique and funny weather app that gives weather reports a funny twist. It shows the current, hourly, and weekly weather forecasts, but all of them are funny. However, the app is not for everyone but rather for those who enjoy AI-generated jokes. Aside from that, Carrot has a scary user interface design where the graphics keep changing based on the weather.
Sometimes you'll hear the sound of a blizzard, and sometimes you'll listen to the sound of a heavy rainstorm. As I already said, Carrot is a unique weather app that has some strange jokes about the weather to help you get through the day. After all, you can get all the information you need, such as the pressure, wind speed, and amount of rain. In conclusion, Carrot is a funny weather app that you should try out.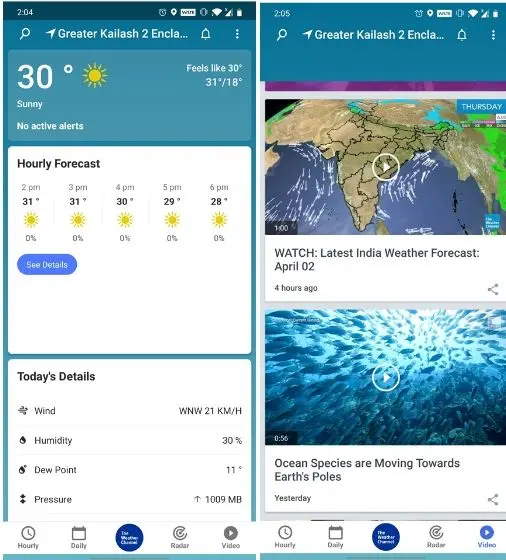 The Weather Channel is one of the oldest weather channels and an API provider for many apps and companies, so it doesn't need much introduction. With the app, you can get hourly updates on the current temperature, the chance of rain, and wind speed. In addition, when you look at the weekly and daily forecasts, you can get a good idea of how the weather will be over the next few days.
The Weather Channel is unique because it has a library of videos explaining how RADAR is changing, how fast the wind is blowing, and how the weather is generally all over the world. However, remember that the app shows banner and video ads, so if you like how they explain things in the videos, you should pay for a premium subscription.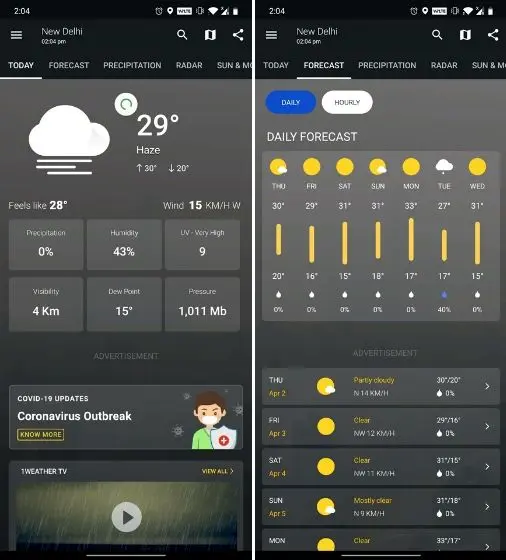 1Weather is the most popular weather apps on the Play Store. It gives information about the weather, rain, air quality, and more. It may not have as nice of a user interface as like Dark Sky app, but it has a lot of data and free features like real-time RADAR and video updates. Regarding metrics, there are rain, humidity, dew point, visibility, and more. The app also gives you hourly and daily forecasts; you can add more than one location to the main dashboard.
1Weather also has smart alerts, which means that if the weather changes in a big way, you will know right away. Aside from that, 1Weather doesn't use Dark Sky's API; instead, it gathers information from DTN WeatherOps. So, if you want a weather app packed with many environmental parameters, 1Weather is one of the best Dark Sky alternatives.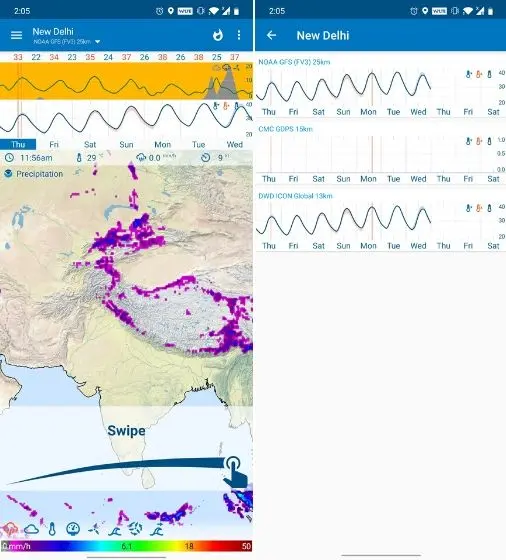 Flowx isn't exactly the same as the Dark Sky app, but I brought it up for data geeks who want to look at weather conditions worldwide. Unlike Dark Sky app, which gives you information every hour, Flowx is all about seeing how the climate is changing around the world as a whole. It has a weather map that lets you see the forecast, learn about forecast models from its 30+ data types, and do other things.
Also, you can learn about RADAR reflectivity and hurricane tracks with the help of different graphs and metrics. Flowx gives you enough information to figure out what the next weather cycle will be like. If you're interested in this kind of thing, you can try Flowx on your Android phone.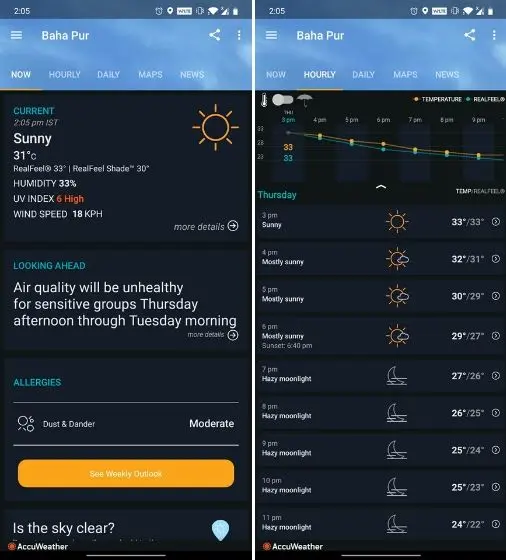 AccuWeather is another service that many of the apps on this list use to find out what the weather will be like. But you can use its app, which is pretty good and has a summary of all the weather information on the home page. It also displays hourly, daily, and weekly weather forecasts, similar to Dark Sky app. AccuWeather is very close to Dark Sky in terms of how accurate it is, and many people like it better than other weather forecasting services.
They use information from satellites, RADAR, surface maps, and the weather services of different countries. Aside from that, AccuWeather has a Map section where you can tap once to see the weather in other places. To clear things up, AccuWeather is a good way to find out about the weather anywhere in the world, and you should try it.
Conclusion

:
These are the best Android Dark Sky app alternatives. On this list, we've included apps that look good and have enough information to give a more accurate picture of the weather. Also, we've included apps that don't have the best user interfaces but have a lot of data. So, you can choose the best Dark sky replacement for Android based on what you like.
If you liked this article, you might also like our list of the best Android apps for galleries, cameras, and more. Don't forget to read our article on open-source Android apps if you like free apps. Anyway, that's all we have to say. If you thought the article was helpful, please leave a comment below to let us know.