LucidChart is a one-stop shop for making great diagrams, flowcharts, wireframes, and more. The software is a choice among many because it has many templates and tools. Still, the software could be better in every way. It only sometimes works well with Microsoft apps and is often too slow on the web. Also, LucidChart's paid version has few features. The paid version, which comes in at $7.95/month (person), is one of the more pricey online sketch software. Because of these problems, you should look at other visual workspaces instead.
Best Sites like LucidChart You Should Use
I've selected affordable and feature-rich visual workspace apps like LucidChart in the following list. I've also included the free ones, keeping in mind the needs of those who want a respectably good online sketch software without spending any money.
Let's look at the best options for LucidChart, regardless of your top priorities!
1. draw.io
"draw.io" is a great option for LucidChart that works just as well. The software has features and uses various tools for making flow charts, UML diagrams, ER models, network diagrams, org charts, and more.
The app looks like the well-known one in terms of having a clean interface and functions that are easy to use. The connections with several services that improve team collaboration give Draw.io an advantage over many similar apps in this area.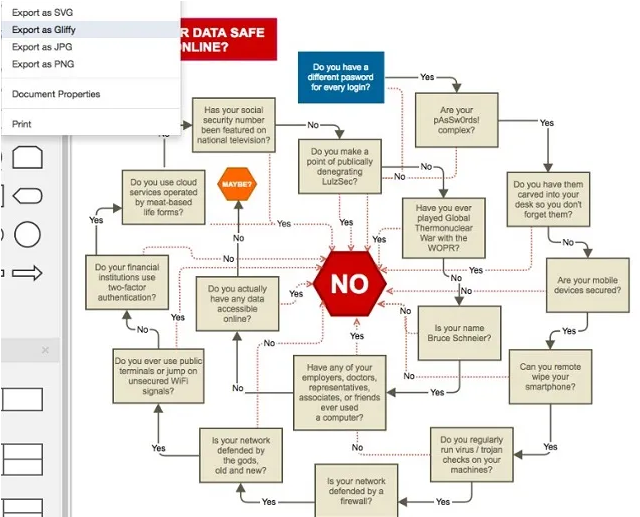 You can keep all of your files safe and easily available across all platforms with this open-source app that works with Google Drive and OneDrive. You can also link your work name to your Google G-Suite account.
Thanks to its reliable offline option, just like LucidChart, you can complete your task without interruption. On top of everything, draw.io is completely free, which makes it likely the best free option for LucidChart.
Pros: 
Feature-packed and comes with a wide range of tools
Integrations with several services
Reliable offline feature 
Works seamlessly with Google Drive and OneDrive
Cons: 
Some diagrams don't work as expected
Importing data isn't straightforward 
Platform Availability: macOS, Windows, Linux, and Chrome OS
Pricing: Free
Visit: Website 
2. Creately
Drawing diagrams and flow charts is easy when accessing many properly made templates and forms. If you're unhappy with LucidChart's templates, "Creately" might be a better choice because it has a huge library with many different design options. Another area where this software shines is a good set of drawing tools that give you exact control.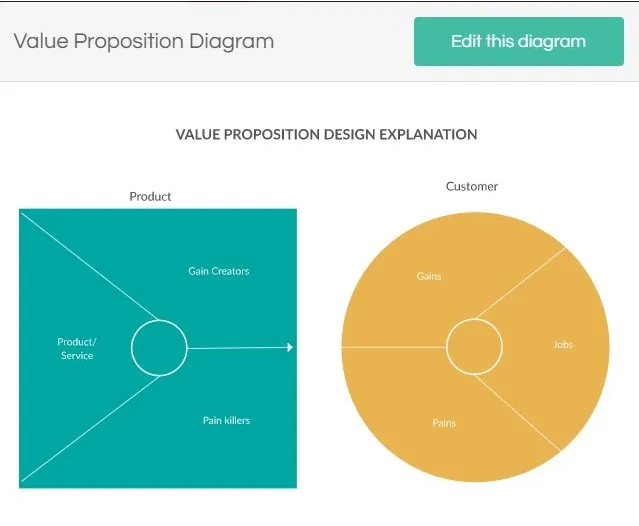 It comes with many styles and themes, just like LucidChart, which adds some nice customization. It's also just a little behind in terms of collaboration. The software enables the entire team to stay on track and allows them to speak easily to avoid misunderstanding.
Like LucidChart, Creately also offers a basic freeware version. However, the pro version of this software has a starting price of $5 per month, which is very reasonable. Considering everything, Creately is an affordable and incredibly effective alternative to LucidChart.
Pros: 
Tons of professionally designed templates
Easy-to-use drawing tools
Plenty of presets and themes
Seamless collaboration
Cons: 
Importing SVG files isn't always painless 
Platform Availability: macOS, Windows, Linux, and web
Pricing: Free, $4.95/month 
Visit: Website 
3. Microsoft Visio
MS Visio is different from the others in many ways. The flexibility offered by this strong drawing software is its best feature. You are free to make diagrams that clearly and meaningfully show data.
LucidChart says it has many templates, but Visio is certainly just a little behind. You can choose from various pre-made templates to create top-notch diagrams without spending a lot of time.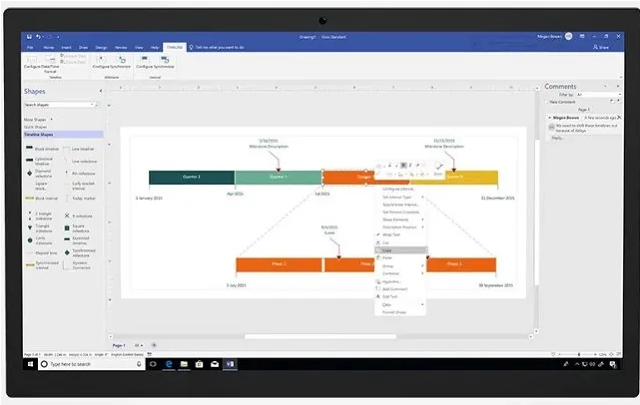 Due to its co-authoring capabilities, cool marking tools, and Skype interaction, Visio is better than LucidChart regarding collaboration. As a result, you can work effectively as a team with your coworkers.
Additionally, the visual workspace software comes with AutoCAD support to speed up complex design. It's not free to use Microsoft Visio, unlike LucidChart. However, Visio's most basic version, Online Plan 1, comes with a monthly fee of only $5.
Pros: 
A large collection of templates
Co-authoring feature, cool annotation, and Skype integration
Better collaboration 
Support for AutoCAD
Cons: 
The integration of the stencil library could be better 
Platform Availability: Windows, iOS, and web 
Pricing: Online Plan 1 comes at $5/user/month (billed annually), Visio standard is priced at $280, while the professional variant is available for $530.
Visit: Website 
4. Coggle
If the most important thing to you in a LucidChart option is simplicity, I think you should give "Coggle" a try. When it comes to making the task of drawing diagrams simple, the software is better than LucidChart despite not having as many features.
It has a good collection of templates that can help you get started in no time, in addition to a simpler experience. It's on par with (if not better than) LucidChart's collaboration, allowing the entire team to stay informed and work efficiently.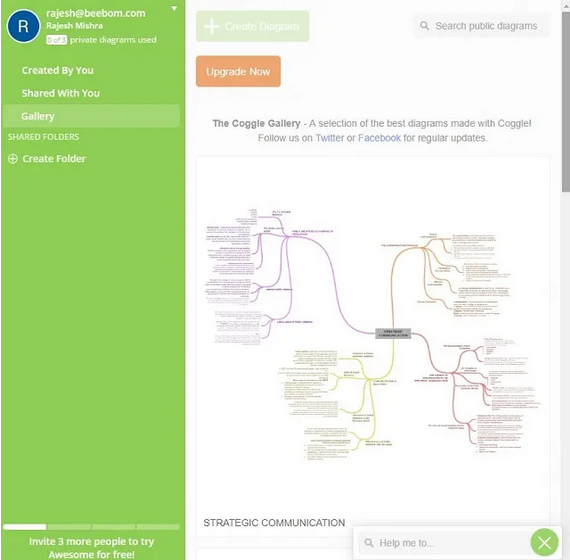 It can be connected to Google Drive to keep your files safe. Thanks to features like auto-arrange branches, multiple start places, and over 1600 nice-looking icons, that's enough customization. In terms of price, Coggle offers a free version that is more useful and a paid version that costs only $5 per month.
Pros:
Works with Google Drive
Over 1600 nice-looking icons
Auto-arrange branches
Cons: 
The note-taking style seems a bit odd 
Platform Availability: Web
Pricing: Free, $5/month 
Visit: Website 
5. OmniGraffle
The OmniGraffle app is a good option for LucidChart in terms of both its flexibility and speed. It looks great and has many professional tools, which caught my eye about this software. When it comes to flexibility, it also performs well.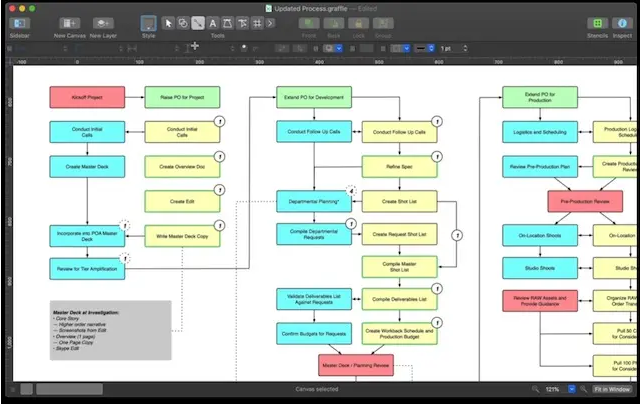 The app has a tab that makes grouping, ungroup, and changing items easy. The templates they offer can give LucidChart's templates serious competition. It also offers a set of useful images to help you cut down on wasted time and work more effectively.
Unlike LucidChart, OmniGraffle can only be used on macOS and iOS. Also, the macOS and iOS versions can be yours for $12.49 a month. A one-time payment of $249.99 will get you it just for Mac. The Mac app is pricey, but the payment is one-time, so you need to catch up in a membership plan. You should check it out if that app appeals to you.
Pros: 
Unified sidebar
Reusable assets
A large collection of templates
Native apps
Beautiful UI
Cons: 
Expensive upfront price
Now requires subscription for getting both macOS and iOS apps

Platform Availability: macOS and iOS
Pricing: 14-day free trial, $12.49/month (for Mac and iPhone), $249.99 for Mac only

Visit: Website 
6. ProtoPie
When it comes to customization, "ProtoPie" excels, which is the reason I chose it. Therefore, "ProtoPie" might be the best option if you're looking for a visual solution like LucidChart that gives you more freedom to make top-notch diagrams.
A strong set of tools that can enable you to make excellent samples is the best feature of this software. You can import design agencies from Sketch, Adobe XD, and Figma and work quickly because the interface works well.
It works with iOS and Android, just like LucidChart, so you can also check your samples on your phones. Regarding price, ProtoPie doesn't have a paid plan, and the basic version costs $129/year, which is a bit pricey at first.
Pros: 
Intuitive UI
Robust suite of tools
Import design tools from Sketch, Adobe XD, and Figma
Cons: 
Doesn't offer a freemium model
Platform Availability: macOS, Windows, iOS, and Android
Pricing: 7-day free trial, $11/month
Visit: Website 
7. yEd
yEd is yet another great choice besides LucidChart. If you want to choose an app that will enable you to make diagrams that look like they were made by a professional without spending any money, take a look.
The app has almost all the tools and a clean layout. The useful group links make it easy to manage big sets of data. Besides that, it has BPMN icons that are very helpful, especially for business process diagrams.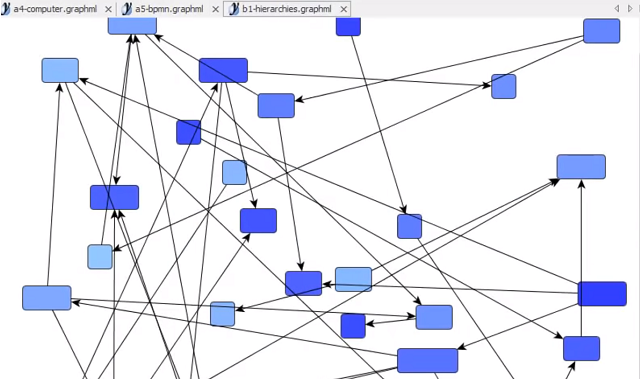 Automatic layout is one of my favorite parts of this software because it makes it easy to put diagram pieces in the right place. You can easily move around, zoom in, and even print diagrams from the web with the live web viewer.
The support for numerous file types, such as GEDCOM, GML, JPG, PNG, GIF, and more, is another notable feature that makes yEd a top choice for folks who want to bypass running into interface issues. In a word, yEd is a good free alternative for yEd for folks who want fairly good software for making diagrams that look like professionals made them.
Pros:
Automatic layout 
Interactive web viewer
Support for many file formats
Clutter-free interface
Cons: 
The user interface seems a bit outdated 
Not enough customization 
Platform Availability: Windows, macOS, and Linux
Pricing: Free
Visit: Website 
Frequently Asked Questions
Why is LucidChart so slow?
It is known that LucidChart uses a lot of resources. This is why it sometimes has trouble getting fast on devices that aren't very powerful.
Can I use LucidChart offline?
There is a way to use LucidChart when you're not online. Go to your account settings and turn on the offline mode.
Is LucidChart better than Visio?
Even though both LucidChart and Visio are very strong, LucidChart is better for newbies. LucidChart appears simpler to use, offers hassle-free sharing, and gives you more flexibility when creating complicated flowcharts.
Is LucidChart secure?
LucidChart is safe, yes. Your info is safe because it uses AES-256 security. Amazon's Key Management Services protect its encryption keys, which is a big deal.
Choose the Best Diagram Apps Like LucidChart…
I hope you've finally e best option for LucidChart that meets your needs. With so many notable map apps fighting for attention, getting the right one should have been fine.
Plenty of free apps can be used for personal and simple tasks. For business needs, apps like Creately and OmniGraffle can meet those needs and get the job done. Also, tell me in the comments what your top choice is.