PBS, or Public Broadcasting Service, is a public broadcaster and TV program distributor based in the United States. It is a non-profit organization whose members include America's public TV stations and unincorporated regions. Because PBS is a non-profit organization, it is primarily supported by donations from private foundations and public funds. PBS Passport helps eligible contributors and supporters by allowing them to binge on popular programs such as American Experience, Nature, Antiques Roadshow, NOVA, American Masters, and Masterpiece. To watch PBS on TV, they must first activate PBS Passport at pbs.org/passport. This tutorial will take you to step by step through the activation procedure.
Step #1: Become A PBS Passport Member
You must become a member to access an on-demand library of fantastic programs. You must pay a nominal fee of $5 (Sustainer/Ongoing-monthly gifts) or give at least $60 yearly. Go to this page, enter your ZIP code, or search by state to find your local station. After choosing the local station, click the Confirm Station button. Then you'll click the Become a Member button. To become a member, follow the instructions on the screen. Your chosen station will validate your donation, and you will become a member. Because you are now eligible, you will receive a one-of-a-kind activation code and instructions. Follow the instructions provided to enjoy the advantage of your PBS Passport benefit.
Step #2: Enter Activation Code At pbs.org/passport To Activate PBS Passport
The next step is to enter the four-word activation code provided by your participating station.
Please keep in mind that only some PBS stations will immediately offer you the activation code until you become a confirmed member. Contact your affiliated PBS station if you still need to receive the activation code. You might also use the Passport Lookup Tool to get an activation email. If something else works better, you may contact them directly here.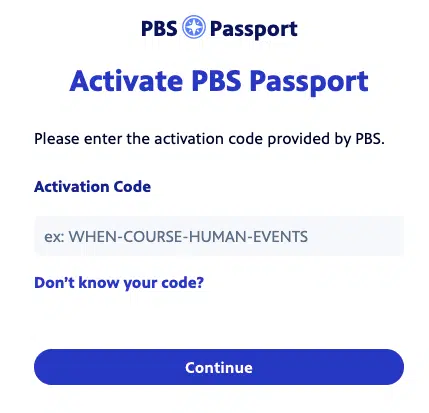 Here's how to activate the PBS Passport step by step.
1 – Once you have received the activation code from your PBS station, go to the activation URL – pbs.org/passport.
2 – Enter the code in the appropriate field and press the Continue button. (Click the Don't know your code link if you don't know your code.)
3 – On the following screen, you will see your membership name and the name of your local PBS station.
4 – Enter the PBS sign-in information as requested. (In addition to your PBS credentials, you may use your Google or Facebook account.) If you do not already have a PBS account, click the Create One Now button.)
5 – Accept the Terms by selecting the box next to I Agree and clicking the Confirm button.
6 – There you have it! The Activation is Complete! A message will appear. A message appears on the screen.
After successfully activating your PBS Passport benefits, you may watch your favorite videos at pbs.org anytime and from any location. It should be noted that there's no need for a separate Passport website to access unlocked features. To begin using your Passport benefit, click the Sign In button.
Step #3: Sign in To Your PBS Account
Sign in to your PBS account to begin watching your favorite videos. By following the steps below, you may sign in and watch Passport and non-Passport videos.
1 – Navigate to www.pbs.org and select the Sign In button in the top menu.
2 – A popup screen will open, inviting you to pick your preferred sign-in method.
3 – Sign in to your PBS account using one of the services (use the same account you used to sign your Passport) –
4 – Sign in with PBS Account.

5 – Sign in with Apple.

6 – Sign in with Facebook.

7 – Sign in with Google.

8 – If your account is already linked, your name will appear in the upper left corner of the screen.
Step #4: Watch PBS Passport Videos
Now that you've signed in to your PBS account, you may watch Passport videos whenever and wherever you like. Here's how you should watch videos.
1 – You are now on the homepage of your PBS account after signing in.
2 – The Passport emblem will appear on the Passport videos.
3 – Select the Video Image or Video Title to enjoy a video.
This is one method of watching Passport videos. Follow the steps below to watch Passport videos on Apple TV and Roku. This helpful guide will let you enjoy your PBS Passport member benefit from participating in Public Broadcasting Service stations if you use a 4th-generation Apple TV or a Roku device.
How To Easily Watch PBS Passport Videos On Apple TV?
Well, to watch PBS Passport videos on your Apple TV, you must first activate the PBS Video app on your device.
1 – Start your Apple TV and go to the App Store.
2 – Using the remote, search for the PBS Video app.
3 – When the app appears on the screen, click the Get button.
4 – Once installed, launch the app.
5 – To generate an activation code, select the Activate Now button.
6 – Save the code and go to pbs.org/activate in a browser that supports it.
7 – Enter the code in the appropriate box and press the Continue button.
8 – When requested, enter your sign-in information. (If you already have a linked Google, Facebook, PBS, or Apple ID account, you may use it.)
9 – To finish the activation procedure, follow the on-screen instructions.
You may return to your Apple TV screen and enjoy your favorite PBS Passport videos.
How To Easily Watch PBS Passport Videos On Roku?
Apple TV is one of many devices that can watch PBS videos. If you own a Roku device, follow these tried-and-true steps to activate the Passport Video app on Roku.
1 – To access the Roku home screen, hit the Remote button.
2 – Open the Roku Channel Store and look for the PBS app.
3 – To install the app, select the Add Channel button.
4 – Go to the home screen and launch the app.
5 – Click the Activate Now button to obtain a 7-digit activation code.
6 – Keep the screen visible while visiting pbs.org/activate on another device, such as a computer or mobile device.
7 – In this section, you must enter the code.
8 – Next, click the Continue button.
9 – Sign in to your PBS account on the next screen.
On the screen, a confirmation message will display. Then, launch your Roku device and turn to watch PBS videos.