Airtable is one of the most popular project management and cloud collaboration systems, but its hefty cost is prompting customers to seek less expensive alternatives.
So, in this post, we've compiled a list of the ten best Airtable alternatives that are less expensive, provide free cloud storage, have a user-friendly UI, and handle relational databases.
While preparing for this, we focused on systems that offer speed, versatility, automation, and plugin support, among other things, while preparing this list. So, without further ado, let's look at the best Airtable alternatives, which include some self-hosted and open-source applications.
In this post, we've listed the top 10 Airtable alternatives, including cloud solutions, self-hosted platforms, and open-source frameworks. Expand the table below to see each station in detail at your leisure.
What is Airtable?
Airtable is a project management tool that combines spreadsheets with database functionality to provide a granular cloud collaboration solution. You can use Airtable to keep track of the status of tasks that your team members have been given, manage workflow, keep an eye on team workload, and connect third-party plugins to automate tasks that are done over and over again.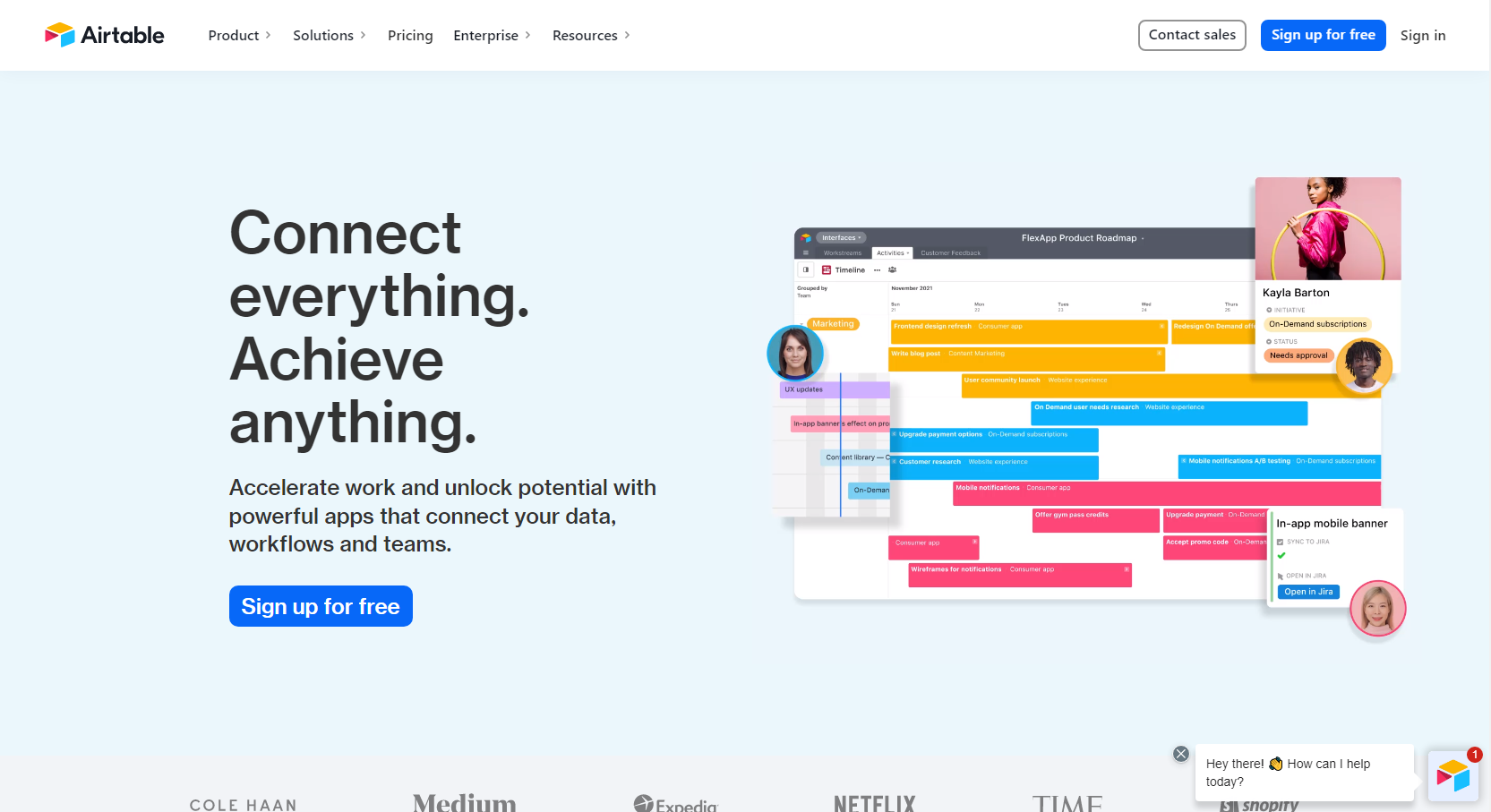 There are a variety of perspectives available to help you comprehend the roadmap for your company's various initiatives. Essentially, Airtable allows you to simplify and integrate several people into a single workstation while keeping track of their progress. Airtable has a lot of great features, like low-code database administration, compatibility with third-party plugins, a lot of views, cross-tables (relational databases), an intuitive UI, fast data fetching, work priority, and more.
10 Best Airtable Alternatives
You should look for Airtable alternatives that are cheaper, offer more features even on the base plan, and offer no restrictions on third-party integration.
1. Notion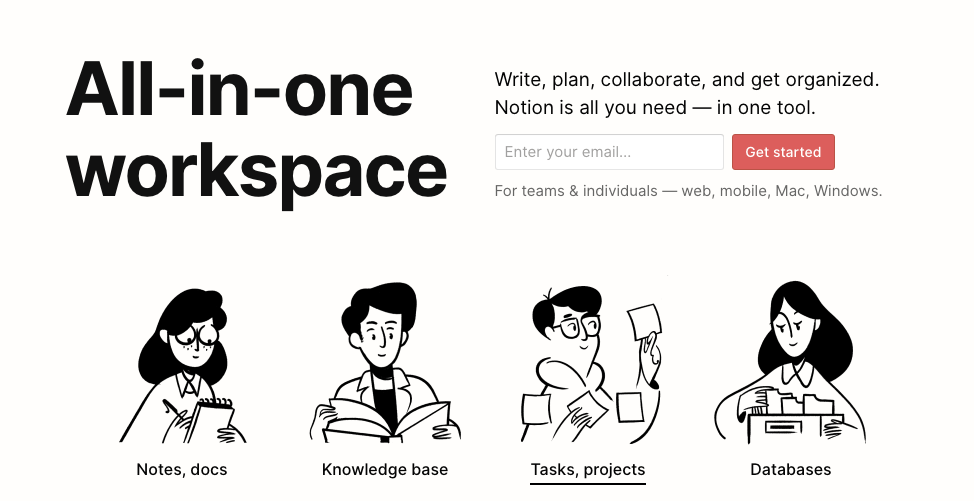 Notion is my first pick if you're searching for a cloud collaboration platform that's similar to Airtable. It's more than simply a spreadsheet manager; it's a centralised workplace for large and small groups. You may add people to your team, exchange documents, assign tasks, build wikis, launch campaigns, and, best of all, link third-party applications. There are a variety of templates to pick from, and you may sort projects by owner, status, calendar, and other criteria. Individuals are free; the Pro plan starts at $4 per month.
2. Asana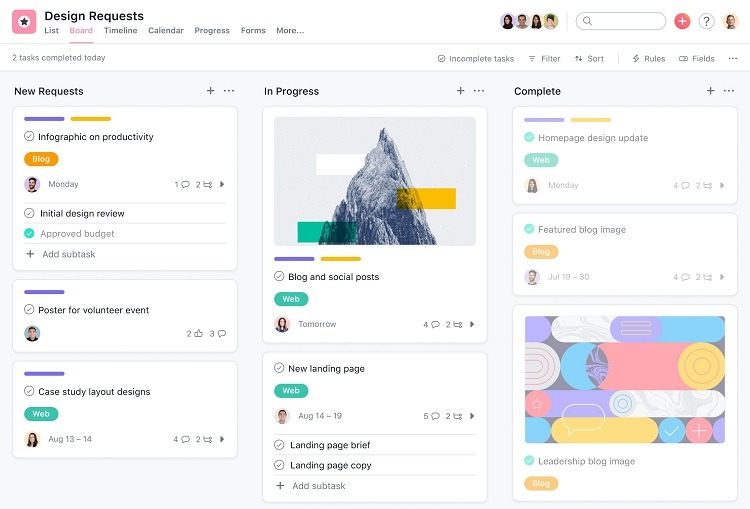 Asana is the second best Airtable replacement, especially if you need a platform that can expand for larger teams without losing track of the roadmap, projects, campaigns, and so on. It contains a slew of other tools that might assist you in keeping track of team members' duties and progress. Asana has additional views than Airtable, including a List, Board, Timeline, Calendar, Progress, Workload, and more.
Airtable, on the other hand, has Grid, Kanban, Calendar, Gallery, and other features. Asana also has advanced search, progress reporting, and portfolio management capabilities, which Airtable lacks. The best thing is that there are no additional fees for data storage with Asana. You have limitless storage and access to the activity logs from the previous several days. Integration with third-party products such as Slack, Google, Microsoft Office, and others is also possible. To summarise, Asana is easy to use and may assist you in planning and structuring your workflow, resulting in increased productivity. Individuals are free; premium plans start at $10.99 per month.
3. Zenkit
Like Airtable, Zenkit is a project management package with a sophisticated foundation that may provide insight into your process. There's a lot more to it than just spreadsheets and databases. With several layouts, task reminders, and multiple data views, Zenkit allows you to tailor your tasks. Zenkit, unlike Airtable, allows you to view projects and data in a variety of ways, including Calendar View, Kanban View, List View, Mindmap View, Wiki View, and more. There's also Gantt chart support, which Airtable doesn't have. Individuals are free; the Plus plan starts at €9 per month.
4. ClickUp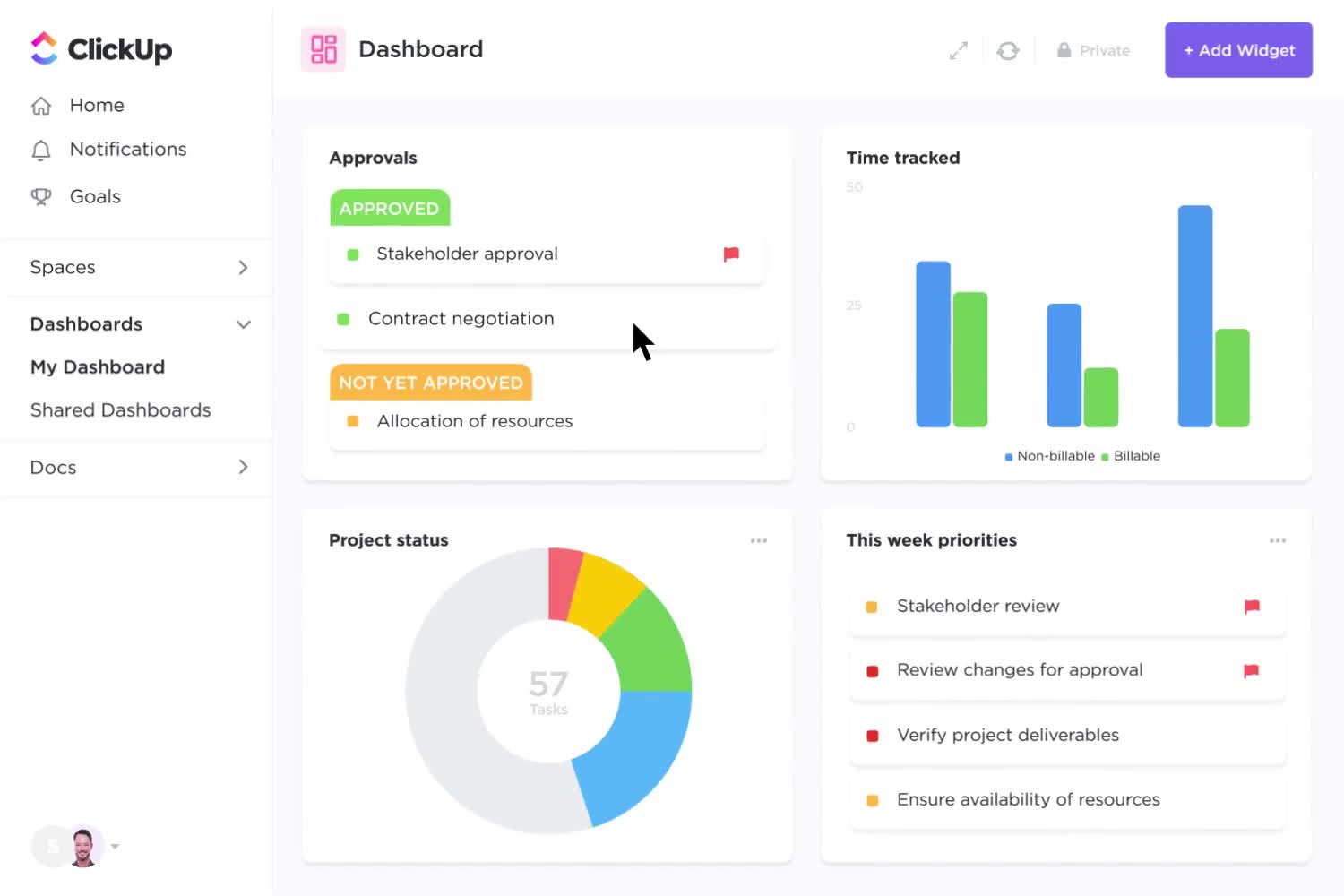 With no-code project management, ClickUp is a good alternative to Airtable. It provides a centralised workspace where you can create projects, manage progress, and interact with your colleagues. It, like Airtable, offers resource management, real-time reporting, goal reminders, and much more to provide a productivity-driven package. Spreadsheets may be managed in a variety of ways, including drag-and-drop, timetable management, workload view, and more.
To keep track of a project or a plan, ClickUp has a Goals tool. Then there's support for a relational database, which allows you to retrieve data from one database, combine it with another, and sync the two databases effortlessly. More than 100 third-party products may also be used to develop a conditional automation workflow. Individuals can use the service for free; the Pro plan costs $5 per month per member.
5. Coda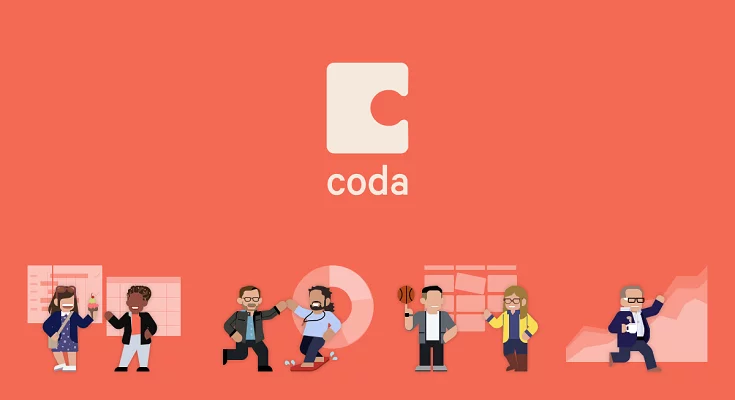 Coda is a popular platform for storing all of your work in a single document. Coda's main selling point is that its projects, documents, and spreadsheets can all be implemented without writing any code. You can transform a document with tables into a database with a single click using its doc with tables functionality. The Lookup tool, on the other hand, allows you to join tables and graphically see data from a variety of sources. Finally, it provides you with hundreds of templates to select from, whether it's for a campaign, a roadmap, or project tracking. Individuals are free; the Pro plan starts at $10 per month per Doc Maker.
6. Trello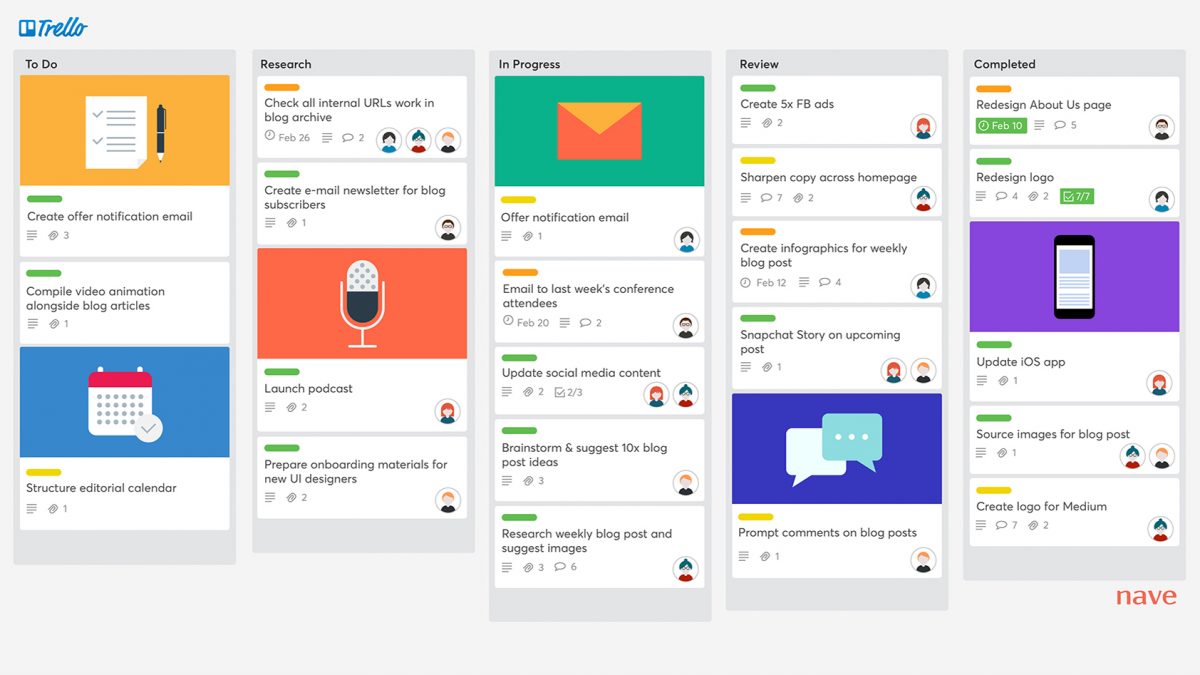 I would use Trello over Airtable if you have a small staff. It's a fantastic collaboration software that allows you to keep track of all your tasks and get things done quickly. The best thing about Trello is that it has a simple user interface and an easy onboarding procedure. Trello may not be as feature-rich as Airtable, but it nails the essentials like task scheduling, shared team calendars, task prioritisation, and more. Individuals can use it for free, however the Pro plan costs $5 per month per user.
7. SeaTable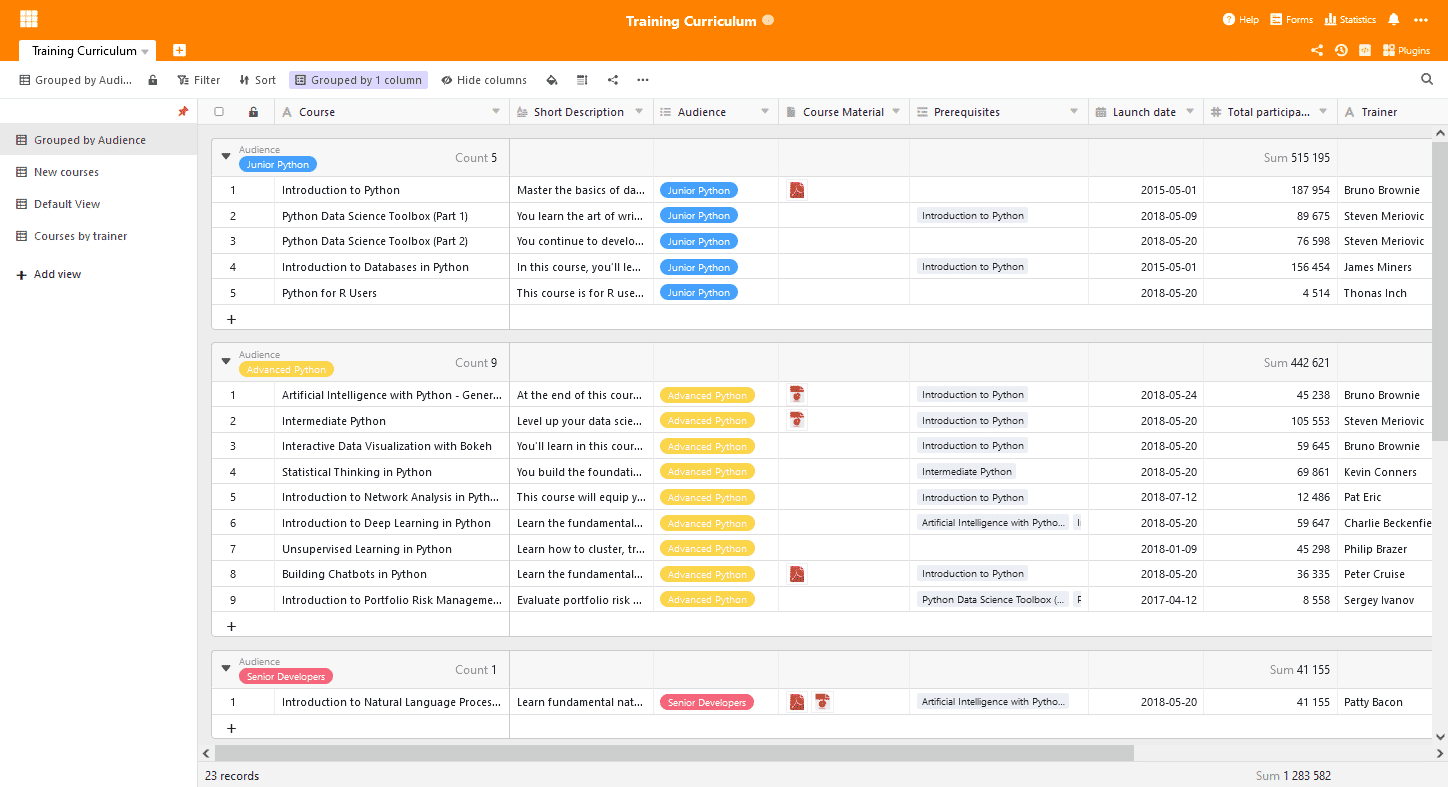 If you're seeking for a self-hosted alternative to Airtable, SeaTable is the right tool for the job. SeaTable's on-premise, self-hosted solution is highly popular because of the solid architecture it offers. It also supports cloud alternatives. You may pick where your data is stored and who has access to it, whether on a Linux or Windows server. In reality, SeaTable's free edition includes 2000 rows and 1GB of data storage at no cost. Individuals can use the service for free; the Plus plan costs €7 per month per user.
8. Baserow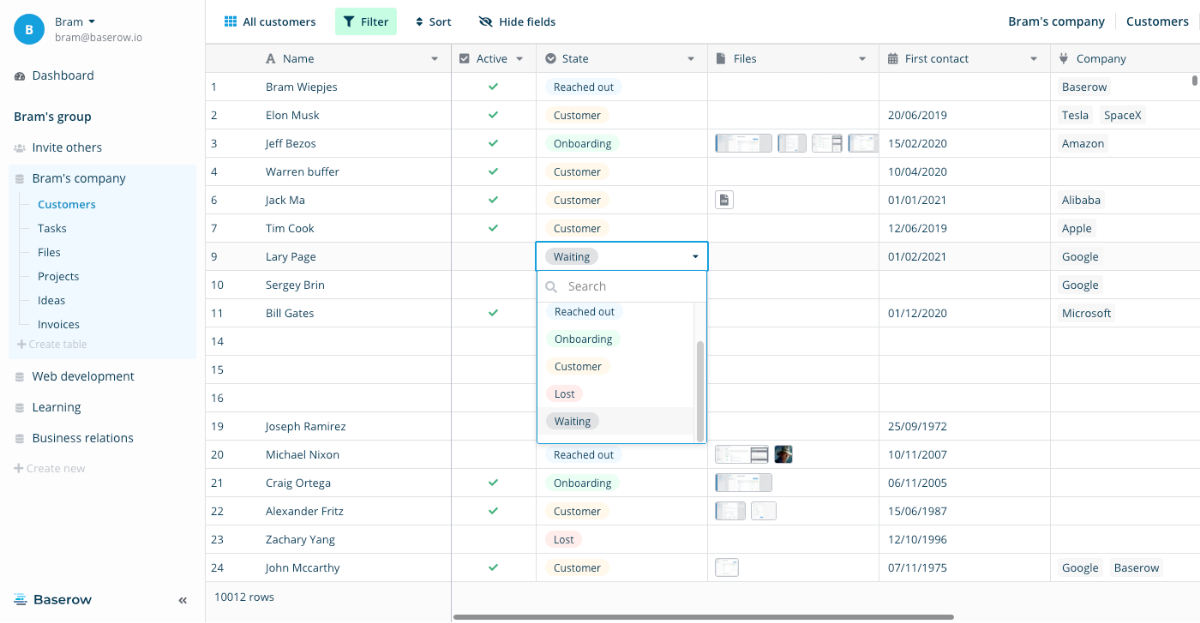 Baserow is my #1 choice if you're seeking for the best open-source alternative to Airtable. It's less expensive than Baserow, and you may install it on your own server at no additional expense. It also implies you won't be tied to a single provider and will be able to choose between servers. You may make custom plugins, templates, and rows as long as you like, as well as use the hosted SaaS version. Baserow's database management system has a comparable user interface to Airtable, so if you're going to migrate, you'll have no trouble using it.
Because Baserow is hosted on your own server, it offers unrivalled performance and versatility in compared to Airtable. To summarise, Baserow is an excellent solution for customers searching for an open-source alternative to Airtable. Self-hosted users are free; paid plans start at $5 per month per user.
9. NocoDB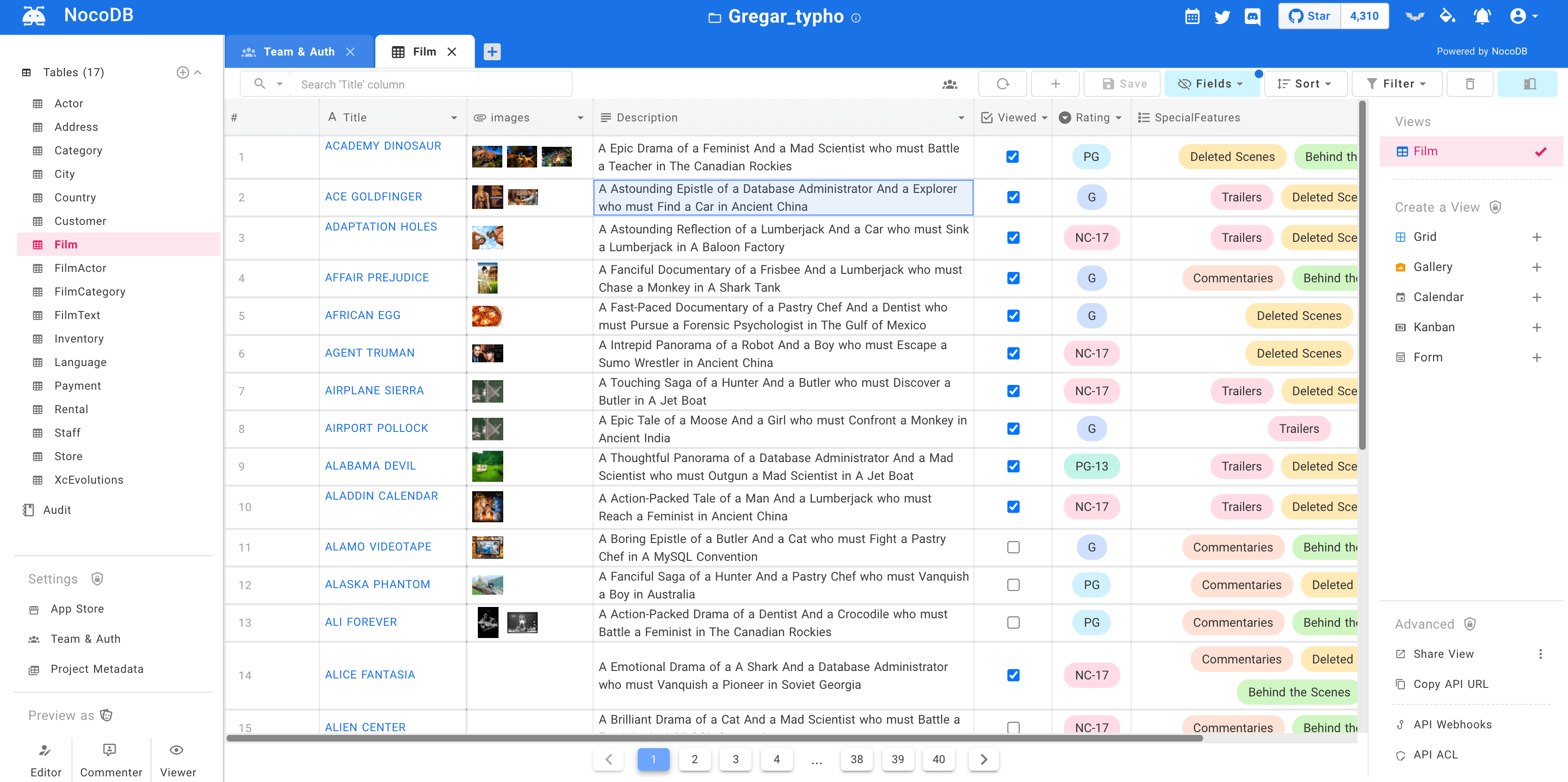 NocoDB is an excellent open-source alternative to Airtable if you're seeking for something else. It enables you to operate your own database server and connect to existing databases such as MySQL, PostgresSQL, and others. You can also convert databases into smart spreadsheets without having to use any code. Its robust framework, APIs, and third-party integration capabilities have made it popular among the open-source community. You may invite members of your team, assign tasks, check progress, send reminders, and more.
10. Microsoft Lists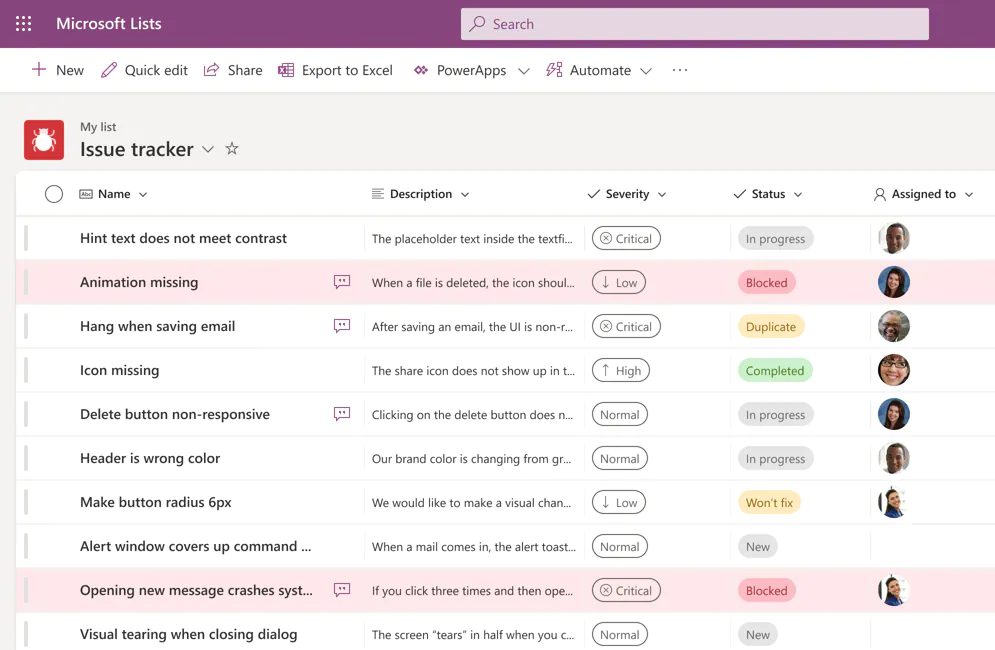 If you're seeking for a Microsoft alternative to Airtable, Microsoft Lists was just revealed. Under the Microsoft 365 programed, it has comparable benefits. From a single workspace, you can construct spreadsheet-like lists and arrange events, monitor issues, manage inventories, and much more. There are hundreds of pre-made templates to pick from, and you may customize your lists and assign jobs to your teammates. Pricing: The Microsoft 365 Business Basic plan starts at $5 per month per user. For more information, go to the Microsoft 365 Business website.
Why Should You Look for Alternatives to Airtable?
While Airtable is an excellent tool for managing big groups, its cost has deterred many users, particularly smaller businesses and startups. Airtable now charges $10 per month per user if you sign up for the yearly subscription. Even if you have a staff of 20 workers, the monthly cost jumps to $200, making it unaffordable for small firms. If you exceed the 5GB storage limit, you will be charged an additional fee. Not to mention the fact that some of the most useful features, such as the Gantt chart and timeline views, are behind a paywall.
Plus, consumers aren't allowed to use them. You must subscribe to the $20 per month subscription to obtain advanced capabilities that are normally available on other platforms. With all of these considerations in mind, you should seek Airtable alternatives that are less expensive, have more functionality even on the most basic plan, and allow third-party integration without limits.
Conclusion
So there you have it, the top ten alternatives to Airtable. Almost all project management services provide high dependability, quick communication across tables, numerous views, and additional features such as wikis, notes, charts, and so on. If you're looking for a self-hosted or open-source alternative to Air table, we've covered those alternatives as well.
That's all we've got from us. If you're seeking for the best Cloudflare alternatives, check out the post below. If you have any further queries, please leave them in the comments area below.