As one of the best useful apps, Pushbullet lets you quickly and easily move files between your Android device and PC, send SMS messages from your PC, set alarms, and do other things. On the other hand, the free version of Pushbullet doesn't have as many features as the "Pro" version, which may turn some people off. Feel free to use the free version of Pushbullet, but it doesn't have these features:
Actionable notifications
Mirrored notifications
Universal copy and link sharing
100/month restriction
Send files up to 25 MB only and 2 GB storage space limitation
Some people may need help to buy Pushbullet Pro, priced at $39.99 per year or $4.99 monthly. People who use Pushbullet must either pay for the "Pro" plan or find another app. Here are the best alternatives to Pushbullet Pro that you can use instead if you don't want to pay for it.
Best PushBullet Sites like in 2023
1. AirDroid
Without a doubt, AirDroid is the best option for PushBullet. You can reply to WhatsApp messages, add notifications, check notifications, answer and make calls, sync SMS and contacts, and more with AirDroid. It also lets you mirror the screen of your Android device to your PC, allowing you to control your Android smartphone or tablet from your PC.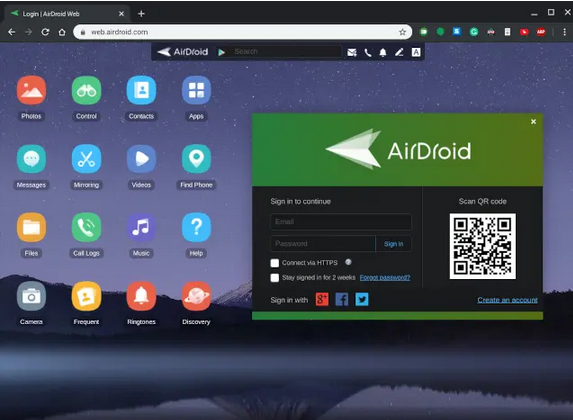 That being said, AirDroid does have a few limits. It would be nice if AirDroid had features like international copy and paste and the option to share links. Another thing is that the tool uses a lot of resources so that it might need to be faster sometimes. The Premium plan for AirDroid is also priced at $1.99 per month or $19.99 per year. The free plan is cheaper than Pushbullet's paid plans while still useful.
Overall, AirDroid is one of the best alternatives to Pushbullet because it has many of the same great features as Pushbullet plus some extra ones.
Availability: Android, iOS, Windows, macOS, AirDroid Web
Download: AirDroid (Free)
2. Crono
Crono is one of the best alternatives to Pushbullet—even better than AirDroid—if you want to mirror your Phone's notifications on your computer. It offers everything Pushbullet does but with a much better user experience. Like Pushbullet, all of your notifications show up on your computer. You can also reply to WhatsApp messages and "like" Instagram alerts. You can also set up call alerts but can't receive calls. This is the best you can do: reject call notifications with a quick SMS response. Not only that, but Crono will also clear up your smartphone notifications if you dismiss a message on your computer.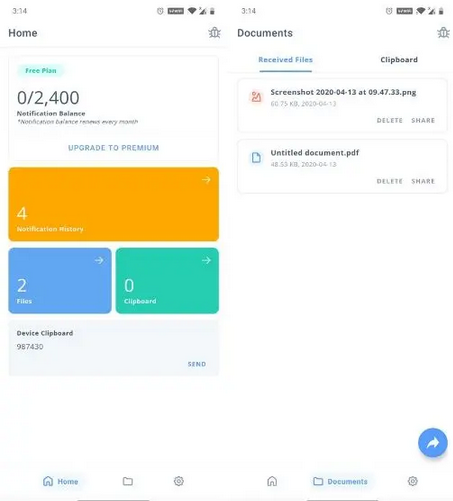 Crono also works with international file sharing, one of the best features of Pushbullet. You can share the clipboard between your smartphone and computer with just one click. The best part of Crono is that it's end-to-end encrypted by default, just like Pushbullet. Therefore, no one can read the data transmitted between your smartphone and computer. Conversely, Crono offers 2400 notification credits under the free plan, unlike Pushbullet, which offers only 100 monthly notifications. That's cool. That's why Crono is the best app to use instead of Pushbullet. There are also apps just for macOS and Windows.
Availability: Android, Windows, macOS, Web
Download Crono (Free, Premium plan starts at $1/month)
3. Snapdrop
If you want to share files without using Pushbullet, you should check out Snapdrop. You can share files quickly and easily across multiple platforms without downloading an app, making an account, or reading a QR code. For all platforms, Snapdrop is an open-source web-based tool that works. A shared WiFi network is all you need. Open snapdrop.net on both devices to start sharing files if your PC and smartphone are both linked to the same WiFi network at work. If you right-click on the device, you can also share links. The best part of Snapdrop is that it's lightning-fast, lets you share multiple files at once, and has no ads. Also, just like Pushbullet, all your file exchanges are secured using the TLS protocol. In conclusion, Snapdrop is the best option for Pushbullet if you mostly use it to send files.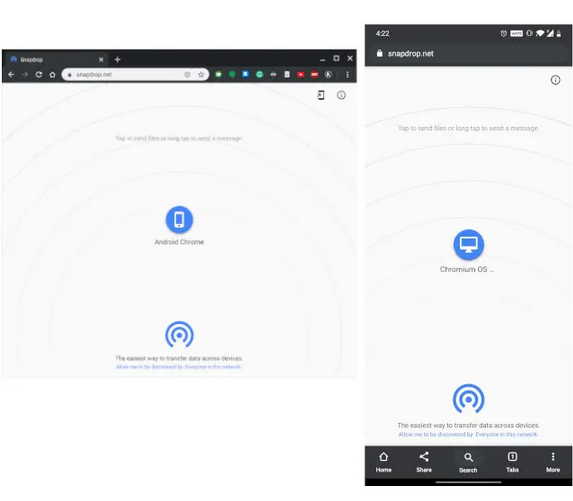 Availability: Android, iOS, Windows, macOS, Chrome OS, Linux, Chrome, Firefox, Safari, Web
Visit Website (Free)
4. Join
You can use Join instead of Pushbullet, but it doesn't have the best user experience. Join is a great app if you want something that works and don't care about how it looks or works. It's really clean; there are no ads or tracking, and the smartphone notifications are sent quickly. It lets you share files, links, and positions across devices. It also mirrors your notifications and messages; you can reply to messages and do practical things on your computer. If you use Tasker, you will also enjoy how well the app works with Tasker. You can also share your clipboard with multiple devices as part of that. Also, if you set a password for Join, it is protected from end to end, just like Pushbullet. So, to clarify things, choose Join if you know much about Android.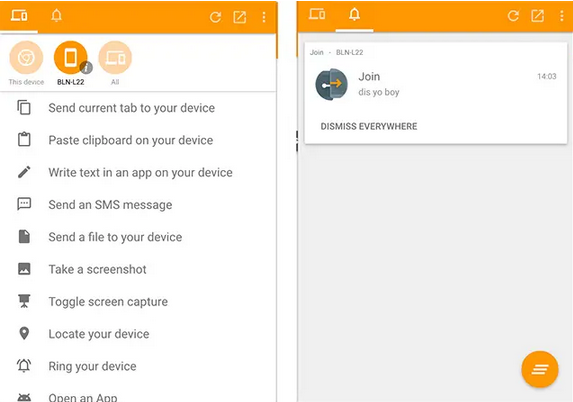 Availability: Android, Windows, Web
Download Join (Free, Full version at $1.49)
5. My Phone – Windows Companion
As the name suggests, My Phone is a Microsoft-made app that works with Windows. My Phone could be better than AirDroid as a device controller, at least still. Even so, Microsoft says they are improving the app by adding new features.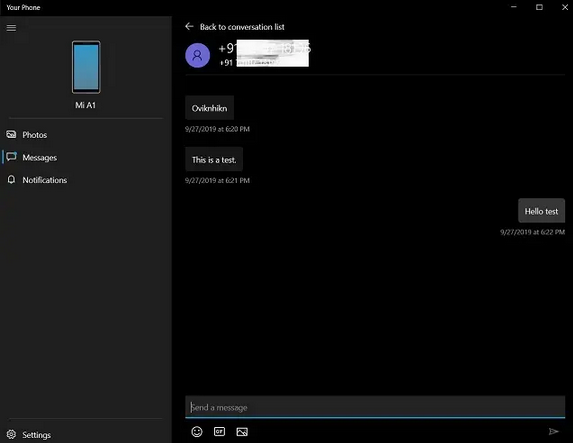 My Phone can currently be used to check Skype notifications, reply to text messages, view and send pictures, and more. This app has fewer features than some other tools, but that should change in the future. Also, it is important to note that this part of the partner will only work with Windows and Android. Therefore, check out My Phone if you have an Android phone and a Windows PC.
Availability: Android, Windows
Download My Phone: Windows (Free), Android (Free)
6. EasyJoin
An app called EasyJoin is fairly new to the Android market, but it has quickly become very popular among tech-savvy people. One great thing about EasyJoin is that it's mostly free, and you can do many important things that you can only do with a paid plan. EasyJoin is one of the best alternatives to Pushbullet because it has many new features that Pushbullet itself doesn't have. You can receive various notifications by first connecting your smartphone to your computer. Additionally, you can reply to messages and do things like "snooze," "mark as read," and more.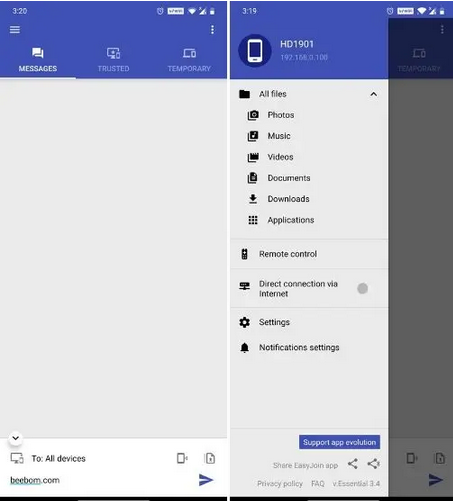 You can also make and receive calls on your PC with the EasyJoin app for Windows and integration, but this option is only available with the paid plan. In addition, you can set alarms, use the global clipboard, and control the volume of other devices. You can send files from one device to another. You don't have to pay anything to use any of these features, which are all free. We're still going, though. End-to-end encryption is standard for all talk calls, messages, notifications, and file downloads. Considering everything, EasyJoin is a good option for Pushbullet, so you should try it out.
Availability: Android, Windows, macOS, Linux, Web
Download EasyJoin (Free, Pro version available at a one-time charge of $15)
7. MightyText
One of the best alternatives to PushBullet is MightyText.In the same way that Pushbullet does, Mighty Text syncs your text messages and lets you reply to them from your PC. The MightyText app also mirrors your notifications, lets you make calls, rings your Phone, removes an app, sends photos and videos, and checks your battery life.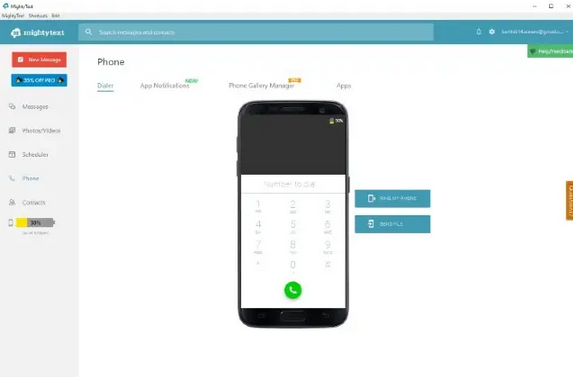 Mighty Text's free version offers 500 text messages per month, five times more than Pushbullet's free version. A paid version of Mighty Text lets you plan messages, no longer showshow ads, send unlimited messages, sync up to 100 GB of pictures and videos, and more.MightyText's Pro version costs $79.99 per year or $9.99 monthly. You can check out other alternatives if you are okay with the free version's 500 messages per month limit. Mighty Text should work well for you.
Availability: Android, Windows