Automation can be used in our personal lives to make us more productive, not just in businesses. Even though everyone has the same number of hours a day, some people get much more done with them. A big part of this performance gap is caused by automation, among other things. Smart work means getting rid of tasks you do repeatedly and focusing on the ones that need your attention. As far as tools that help us automate our lives go, Zapier is one of the best. But no tool is perfect for everyone because everyone has different needs and goals. Also, Zapier's prices should be lowered for some people to pay. We're here to help you find free or other automation tools besides Zapier that do what you want them to do. In 2023, these are the ten best apps that work like Zapier.
Top 7 Sites like Zapier
1. Automate.io
One of the best Zapier substitutes is Automate.io, which offers a similar level of third-party integration while keeping costs low for startups and businesses. While Automate.io used to only focus on marketing, it now offers services in all areas, such as social media, advertising, payment automation, simple email automation, and more. And just like Zapier, you can create conditional workflows with Automate.io. This means you can connect multiple web apps with the right flowchart. The best part of this process? You don't have to write any code, though. You can create several multi-app workflows with just a few clicks, just like Zapier. The APIs are easy to understand, and you can use them immediately.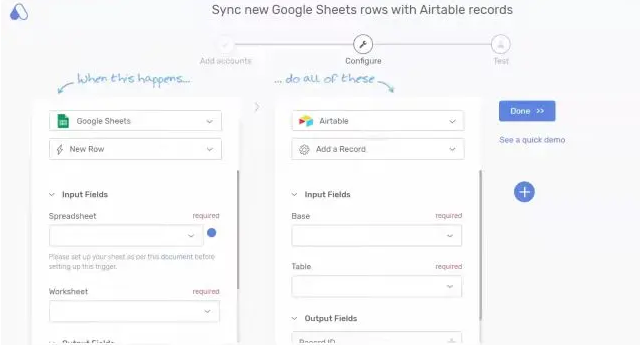 The best part of Automate.io is that it supports more actions per month. For example, if you pay $49 a month for Zapier, you get just 2000 actions per month, which is too little when you need to pull data from Gmail daily. On the other hand, Automate.io lets you do 10,000 actions per month with the same plan. That's cool. This is true for bigger plans, which give you five times as many actions as Zapier. Simply put, Automate.io is an effective Zapier substitute, and you should try it because it offers more actions than Zapier does with similar plans.
Visit Automate.io (Free, with subscriptions starting at $49/month)
2. Integromat
This service is the most like Zapier in terms of its appearance and ease of use. Everything is easy to find and use, and the images move smoothly. I've found it to work better than Zapier in terms of functionality, especially regarding complicated tasks. From the short time I've used Integromat, it makes setting up complicated tasks much easier than any of the other services on the list. The best part of Integromat is that it gives you a full visual picture of the tasks you've created. Around the task, a circle shows each node, and faint lines connect them. A mind map appears to have been created. This gives you a quick look at the automatic tasks (or "scenarios") that you have going on.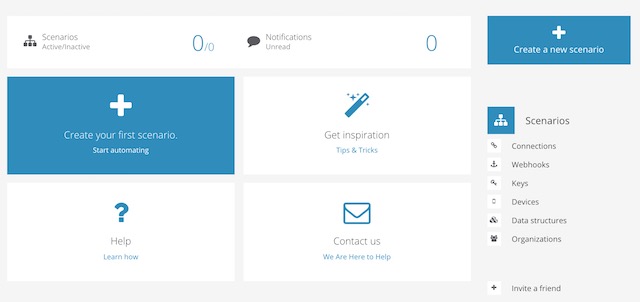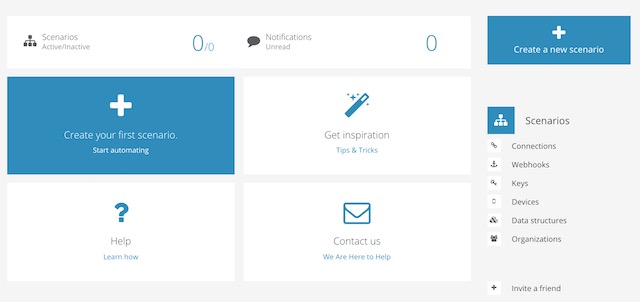 You can create any number of scenarios, each with n steps or actions at a time. It is an automation tool for multiple steps. For instance, I created a task to get an article from Beebom's RSS feed and email it whenever it is published. This was a simple automation with only two steps. Create a complicated plan to take things up a notch.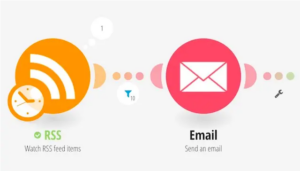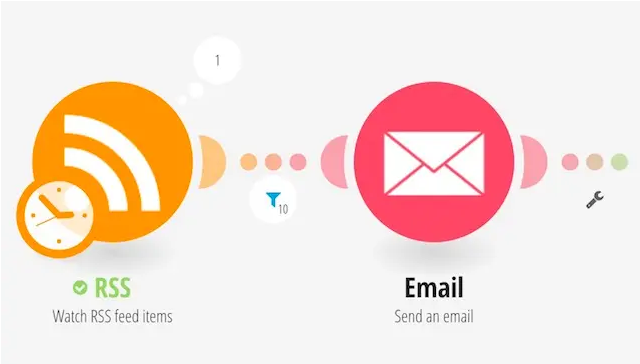 Now, a router is added that lets me give the same trigger different results. I set up the router so that any article on iOS will go to Evernote, and any article on Android will go to Google Drive. See how I created a way to automate things with ease? Everything I need is now in my three favorite spots. The options are endless; this is just an example. You have to try it to understand how it can be used fully.
The way they set their prices bothers me most about Integromat and all automation tools, for that matter. Most of them use subscription-based prices with more than one level. You'll have to go to their websites to check out each one. One good thing about Integromat is that you can sign up for a complimentary user account, which will give you restricted access to their service so you can check it out before you buy.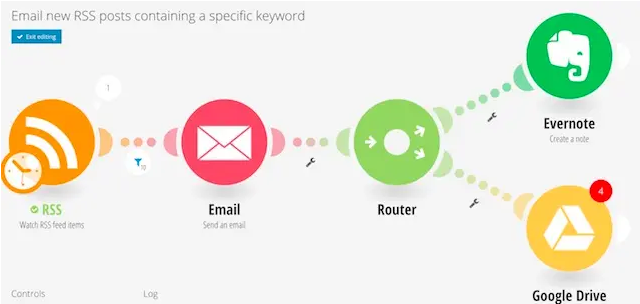 Visit Integromat (Limited free usage, with subscriptions starting at $9/month)
3. Microsoft Flow
Check out this Microsoft offering if you're looking for something you can only use for personal purposes. The style of the app is great. It's best if you're just getting started because it comes with many models that already have flows created for you to automate your tasks. This is particularly helpful if you already use many Microsoft services, like Office 365, OneDrive, and OneNote. You can connect all of your apps with a single login. You may need to approve each app you add one at a time in other apps, which could take some time at first. Of course, this brings up one of the problems with this app: there is only one way to log in than with a Microsoft account. However, this product's feature set makes up for this flaw.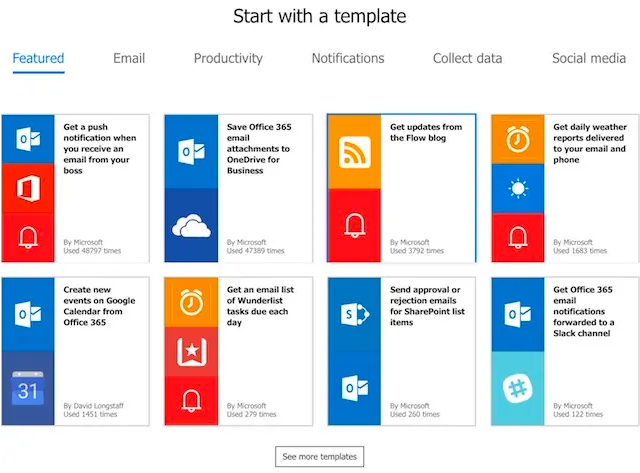 It serves more than a hundred other apps in addition to being a part of Microsoft Apps. While it might be less if you look at other apps on this list, it's still a lot for one person. You can create automation with multiple steps by describing the precise orders you want. Additionally, it has an app for Android and iOS that is similar to its web app in functionality. Because you have more screen real estate to work with, creating and handling your flows on the website is easier. I also just remembered that it's free. It's the only free automation app on the market with no limits. Try this one if you want to play the automation game.

Visit Microsoft Flow (Free)
4. IFTTT
What if I told you the company also offers a tool specifically for businesses? IFTTT is typically thought of as a consumer-facing product for automation. It has a business platform that lets you connect more than 600 apps, and it's just as easy to use as the consumer app. And unlike Zapier, IFTTT isn't just for web apps, which is the best part. Instead, you can integrate mobile apps with IFTTT, which makes it even more powerful. Since smartphones have become most people's main way to talk to each other, this function is a nice addition.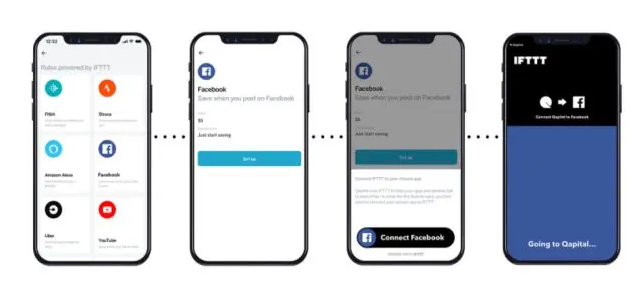 Businesses can integrate any service, such as an app, an email service, or a website, using IFTTT's own set of APIs called Connect. But it has services just for fintech companies that want to make their work more automated. IFTTT lets you connect services like Facebook, Amazon Alexa, Fitbit, Twitter, Dropbox, Gmail, and more. Not only that, but IFTTT also lets you integrate several apps and benefits into a single workflow, which is known as an "applet." Because they allow me to automate tasks on my smartwatch, the IFTTT app for Wear OS is my favorite. It only has a yearly membership plan and costs $199, about $16 per month in payment. IFTTT isn't as expensive as Zapier and is easy to use for simple automation.
Visit IFTTT (Subscription starts at $199/year)
5. Zoho Flow
Another option besides Zapier, which looks good and brings a lot of advanced features in an easy-to-use layout, is Zoho Flow. Like Tray.io, Zoho Flow lets you integrate your apps and create workflow scenarios on a visual designer. With just a few clicks, you can create a plan of action, change it without any problems using conditional triggers, and set the workflow in motion. In seconds, you can send texts, files, and reports from one service to another. The best part of Zoho Flow is that if you want to get into webhook integration, you can create logic elements to describe a variable. When it comes to Zoho Flow, only advanced users can get the most out of it.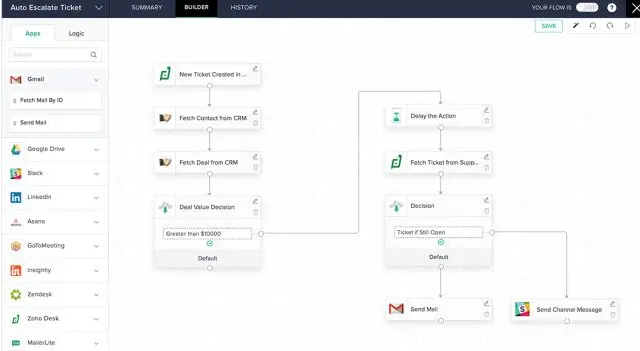 And beginners don't need to worry. Zoho Flow offers a large selection of pre-built workflows you can start with in no time. Just pick the template and permit the integration to happen. Okay, that's it. Regarding web apps, it integrates with almost every major service, including Google Calendar, Asana, Slack, Trello, Gmail, and more. Automation would be easier and more deeply linked if you use Zoho's own CRM and QuickBooks. You can try Zoho Flow because it is an easy-to-use automation tool. Even more so considering that it costs almost a sixth of what Zappier offers.
Visit Zoho Flow (Free, with subscriptions starting at $8.33/month)
6. n8n.io
If you want a free Zapier option, I suggest you check out n8n.io. It's a free and open-source workflow automation tool that integrates well with many popular web apps and services. This is to clarify: it's an open-source tool with a Fair-code license. The service is free, and you can use it for personal and business reasons without paying anything. In contrast to other open-source options to Zapier, n8n offers a visible and smooth designer to create a workflow, referred to as a node on this tool. You can find services and integrate them with webhooks in just three to four clicks. You can also set up triggers, which let you choose multiple conditions for when and where the actions will happen.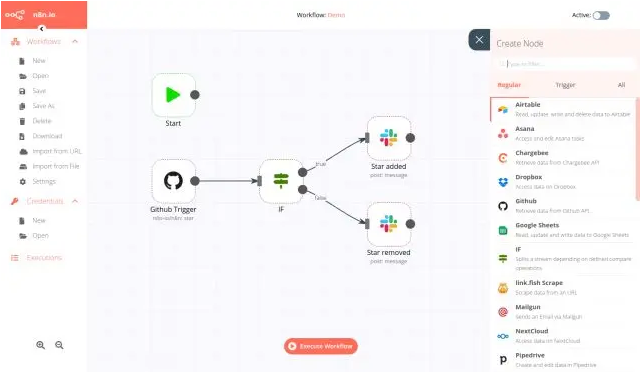 If you're a more experienced user, you can change the code, set the settings, and use JSON data without problems. The best part of n8n is its integration with numerous well-known web apps, including Google Docs, Gmail, Slack, GitHub, Asana, Freshdesk, and more. Simply put, n8n.io is a great workflow automation tool and a good option for Zapier because it's free to use. Also, Huginn (Free) is a good open-source option for Zapier, but remember that it takes a lot of work to use.
Visit n8n.io (Free)
7. Tray.io
Instead of just an integration service, Tray.io is a full-fledged webhook and automation tool for growing companies and big businesses. It outperforms Zapier in every way and brings many features that make Zapier so popular with users. Tray.io has a "Tray Connector" that works like a Zap. To visually create a smooth workflow, it uses a drag-and-drop designer. After this, You'll have a better idea of what your webhook should do. Additionally, you can integrate multiple services into a single service and automate the task to your liking.
A part of that is that Tray.io brings a lot of help so businesses can create unique Tray connections for their needs. Tray.io also has more than 4500 APIs for web apps from well-known companies like Dropbox, Google, Facebook, Mailchimp, and Salesforce. With the ability to integrate almost all of the apps in your stack, Tray.io is one of the most powerful webhook services. But remember that the service is pretty pricey; it costs about $500 a month. Therefore, if you have a big business, you should give Tray.io a look instead of creating and managing your tools and computers.
Visit Tray.io (Subscription starts at $500/month)